Watch Video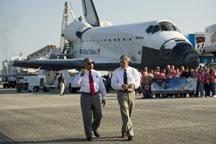 Play Video
Less than 24 hours after Kennedy Space Center workers celebrated the final touchdown of the Atlantis Space Shuttle, reality has kicked in, as more than 15-hundred employees were laid off.
The latest round of redundancy slips, cutting between 15-hundred and 18-hundred jobs in Florida, took place on Friday. Two thousand more are expected in coming months.
Officials says it's the largest single layoff in two years. Nearly 95-hundred contract workers will have been laid off across the country. The layoffs involve everyone from high-ranking managers to cleaning staff.
Many of them have spent their entire careers at the Kennedy Space Center. They say they were inspired as children to work at the home of the moonshot launches from the Apollo era.
Brian Jones, Former NASA Employee, said, "It's hard, it's sad, but it's also exciting. You know, with a new future coming up."
Brian Jones, Former NASA Employee, said, "Well, how can you say you'll ever have a job like the Space Center, you worked on the shuttle and around it, I mean, that's it. You can never have a job like that again."
Editor:Zhang Pengfei |Source: CNTV.CN