Watch Video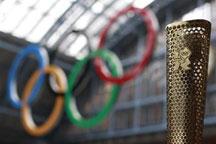 Play Video
With less than a week to go before the one-year count down to the 2012 Olympics, London is in the throes of preparation. CCTV correspondent reports on the action the city's new Olympic Park.
Located in the East of the British capital, it is one of the most ambitious and largest developments in Europe undertaken in past century.
An aquatics center, velodrome, accomodation for three thousand six hundred athletes and at the center, the new Olympic Stadium. But London's ambitions have been scaled back.After the global downturn, several Olympic events were moved to exisiting stadiums within the city. Nonetheless, the hosts are keen to show the benefits of budget.
Hugh Robertson, Minister for Sport and the Olympics, said, Construction of the venues is currently on schedule. At a recent meeting of the International Olympic committee, the organisers were commended for their progress so far.But with costs of more than ten million dollars, the talk is of legacy looking beyond the 2012 Games to bring regeneration to east London.
For the organizers the hope is that the games will lay a foundation for many years to come.
One major concern for the authorities is security. Within 24 hours of being awarded the Games in 2005, London's transport system was hit by a series of co-ordinated bombings. Fifty two people died, and more than seven hundred were injured.
While the police say the general security situation in London has improved, they won't be letting down their guard.
As the countdown clock ticks over in Trafalgar square, however, thoughts are turning to the Games themselves. Millions of extra visitors are expected to visit this already popular capital over the course of the Olympics.
And ticket sales suggest a huge demand within the United Kingdom, as hundreds of thousands converge on London for the Games and the Paralympics that follow.
And at the heart of the preparations are the sportsmen themselves. Will home advantage give them the edge.
Unfortunately on the night it was South Korea that took the prize, winning 4-3.But the British players know they still have a bit of time.Twelve months from now the stakes will be much higher.
Editor:Zhang Pengfei |Source: CNTV.CN