Watch Video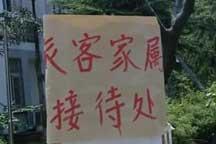 Play Video
Wenzhou No.23 Middle School has been converted into an information center, following Saturday's deadly train collision. Information from local hospitals has been posted on the walls, to help those desperately searching for injured loved ones.
Searching for a name.... Mr.Chen from Fuzhou still hasn't found the one he's looking for. Mr. Chen, relative of train crash victim, said, "My uncle and nephew were on the train. Neither of them have been found yet."
Mr. Zeng from Rui'an is also desperately searching through the lists. Mr. Zeng, relative of train crash victim, said, "I can't reach my brother on the phone. I've searched five to six hospitals but still can't find him."
Some insurance companies have set up compensation-consulting centers in the school. They're promising to compensate the victims families if they are clients of the company.
Other help has been coming in. Local people are doing all they can to make life a little easier for those searching for relatives.
Jiang Jinfu, resident in Wenzhou, said, "Whether or not this accident happened in Wenzhou or elsewhere, we will always try our best."
This information center will continue to operate over the coming days. It's offering at least a glimmer of hope to those yet to hear from loved ones.
Related stories
Editor:Zhang Dan |Source: CNTV.CN