Watch Video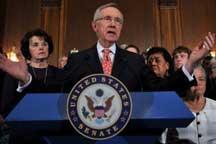 Play Video
The Republican-led House of Representatives has rejected a Senate Democratic bill to raise the debt limit. The vote came just three days before the August 2nd deadline to avert an unprecedented US financial default. The latest standoff has added fresh uncertainty to the debt talks gridlock.
Even with a ticking clock, a compromise remains hard to get.
Just three days before the August second deadline to avert an unprecedented default, a Democratic bill to raise the US debt limit fell short in the Republican-controlled House of Representatives.
The bill was a version of Democratic Senate leader Harry Reid's plan, with some elements of a proposal offered by Senate Republican leader Mitch McConnell. The symbolic vote is aimed at promoting bipartisan cooperation.
David Dreier, Democratic representative, said, "The action that we're about to take here today is going to help with the process of seeing Senator McConnell and Senator Reid work together."
Senate Democrats had hoped to pass the bill by Sunday morning so that it could go to the House by Monday. But the rush to send the bill through the House has raised strong criticism from the Democrats.
Sander Levin, Democratic representative, said, "This is a disgraceful moment. This country wants compromise. What you're doing with this bill is to undermine the chances of compromise, that's what you're doing. You're trying to throw a monkey wrench in the Reid bill before it can even leave the station, that's what you're doing. You're tying to make sure that the Senate cannot work its will."
Nancy Pelosi, Democratic representative, said, "How can it be on the level if we're bringing a $2.5 trillion bill to the floor under suspension the same way we might bring the naming of a post office -- $2.5 trillion, twenty minutes on each side? "
But Republicans criticize the Senate for burning up time working on a bill that was always doomed to fail in the House.
The main point of contention remains the mechanism to ensure further budget savings. Republicans want the enforcement mechanism to be another debt limit vote, while Democrats have proposed automatic tax hikes and spending cuts.
The drawn-out and deadlocked debt ceiling debate could bar the government from further borrowing after Tuesday. The standoff puts the US at risk of losing its top-notch AAA credit rating. A ratings downgrade could prompt global investor flight from US bonds and the dollar. And this would raise borrowing costs for Americans during a time when the economy is already frail.
Related stories
Editor:Liu Fang |Source: CNTV.CN