Watch Video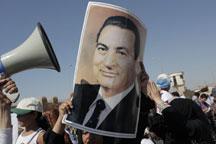 Play Video
Wednesday's trial of former Egyptian president Hosni Mubarak has attracted great attention across the Arab world. So far, people's reactions have been mixed.
Mohammed Aid, Jordanian resident, said, "We support his being put on trial, because he harmed Egyptian people, he committed murder and crimes. What he did was shameful."
Mahmmoud Kreshan, Jordanian resident, said, "This trial has come at a time when Mubarak's health does not allow him, a man of 80 years, to stand trial. He spent his life serving Egypt and fighting Israel through a military war, as well as through the way he ran the country."
Omar Barakat, Iraqi journalist, said, "I support the trial. I hope that any president abusing his people would be put on trial, as Saddam Hussein was."
Abass Shakir, Baghdad resident, said, "I'm against the trial. He is a good man. He received Iraqis and took care of them. And, his country was safe when he ruled."
Ali al-Musheki, Yemeni resident, said, "Putting leaders on trial can be both positive and negative. The positive side is putting oppressors on trial, those who ruled their people with tyranny, and who looted the wealth of their countries. But, these trials are negative when the leaders who ruled their countries conscientiously, who made achievements, who advanced their countries all of fields, and who served their countries well."
Related stories
Editor:Zhang Dan |Source: CNTV.CN