Watch Video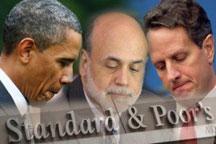 Play Video
The United States has lost its top-notch triple A credit rating from the international rating agency, Standard & Poor's.
The agency is cutting the country's top triple A rating by one notch to AA-plus. It's making the move because the deficit reduction plan passed by US Congress on Tuesday did not go far enough to stabilize the country's debt situation.
The move is likely to raise borrowing costs for the American government, companies and consumers.
The agency remains negative on the outlook of the new credit rating, a sign that another downgrade is possible in the next 12 to 18 months.
China's Dagong downgrades U.S. credit rating to A from A+
Chinese rating agency Dagong Global Credit Rating has cut America's credit rating from A-plus to A. It is the first rating agency in the world to downgrade the country's credit rating. <Full story>
Americans skeptical on US debt deal
The agreement made in Washington to cut more than $2 trillion in spending and raise the amount the U.S. government can borrow, is getting far from a resounding thumbs up from average citizens... full story>>
U.S.: Impact of debt deal on Obama administration and U.S. economy

The US will be going to the polls for a presidential election next year, so what impact will the debt deal have on the Obama administration and the US economy? Let's turn to Professor Richard Cooper in the studio... full story>>
World: US debt deal's impact on global economy
The world economy has suffered a lot throughout their negotiations. So what impact do you think the debt crisis will have on the global market? we are joined by Doctor Liu Youfa, vice president of the China Institute of International Studies... full story>>
U.S. debt deal raises future concerns
The problem is far from being solved. The US debt crisis has worsened, especially in recent years... full story>>
Relief short-lived, bigger cuts needed to resolve U.S. debt problem
A last-minute deal on the US debt ceiling brings welcome relief, but further negotiations involving much bigger cuts will be needed to resolve America's debt problem... full story>>
Interview: US debt crisis over or postponed?
Is the crisis now over or simply postponed? Could you outline the challenges which lay ahead? We are joined in the studio by Professor Richard Cooper from International Economics at Harvard University... full story>>
Studio interview: How does U.S. get out of the vicious circle of using new debts to repay old ones?
A last minute deal to raise the debt ceiling, but as we just heard, the US' debt problem is far from over. Essentially, the US is using new debt to repay old debt. How does it get out of that vicious cycle... full story>>
Editor:Zhang Pengfei |Source: CNTV.CN