Watch Video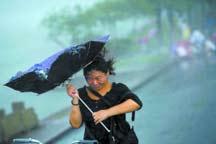 Play Video
Typhoon Muifa has decreased in strength, from a severe typhoon to a typhoon. However, it has picked up its speed. China's central meteorological administration has continued its orange alert for the typhoon.
By 7 a.m. Sunday morning, the center of Muifa reached 675 kilometers southeast of Cheng-shan-tou city, in east China's Shandong Province. Winds have reached gale force 13 and a speed of 40 meters per second.
Now the path that Muifa is moving along is getting clear, which is likely to land on Shandong province on Monday, and move north. High winds and waves are expected over the next few days in Shanghai, Jiangsu, and Shandong, as well as the area north of Zhejiang.
Meanwhile, from Saturday to Monday, nearly 250 flights in and out of 4 airports in Shanghai, Ningbo and Hangzhou have been canceled. Passengers are allowed to re-schedule their flights before August 30th free of charge.
Related:
Typhoon Muifa bypasses Shanghai
According to Shanghai weather authorities, Typhoon Muifa has bypassed the city and is moving north. Full Story>>
Qingdao prepare for upcoming typhoon
Beaches in Qingdao city, east China's Shandong province have been closed since Saturday night. Staff working at the beach have taken all necessary measures to prepare for the upcoming typhoon. Full Story>>
Editor:Zhang Ning |Source: CNTV.CN