Watch Video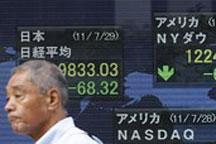 Play Video
Asian shares have fallen despite efforts by global policymakers to stem a collapse in investor confidence.
Tokyo's Nikkei average fell to a five-month low on Monday, after Standard & Poor's downgraded the US sovereign debt rating. This has dragged down all sectors across the board, although the selling appeared to have run its course for the short term.
Over in Hong Kong, the Hang Seng Index fell more than 2.7 percent in early trading Monday morning. The drop brings the Index to its lowest level in a year. Fears of recession in the world's top economy, a downgrade of the US credit rating and Europe's woes combined to pummel the financial markets.
China stocks close down 3.79 percent Monday
China's stocks tumbled Monday after rating agency Standard & Poor's lowered the U.S. debt rating to AA+ with a negative outlook. Full story >>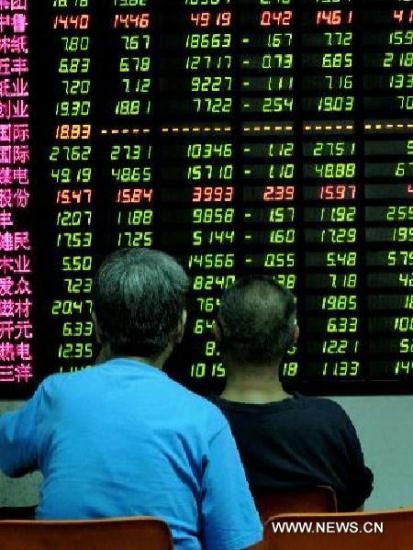 Two individual investors look at an electronic board which displays
stock prices at a brokerage house in Hangzhou, east China's Zhejiang
Province, Aug. 8, 2011. The benchmark Shanghai Composite Index slumped
3.79 percent to close at 2,526.82 points while the Shenzhen Component
Index dropped 3.33 percent to finish at 11,312.63 points. (Xinhua/Long Wei)
China stocks plummet at midday Monday after U.S. credit downgrade
Chinese shares plummeted at midday Monday following the United States' loss of its top-tier AAA credit rating from Standard & Poor's. The benchmark Shanghai Composite Index tumbled 3.68 percent to 2,529.88. The Shenzhen Component Index slip 2.97 percent to 11,354.42. Full story >>
U.S. shares dip over fears of downgrading
After the US Senate agreed to a deal to raise the debt ceiling, investors had little to cheer about. That's because analysts believe there's still a possibility the US may lose its triple-A rating. Meanwhile, investor worries over the stalling economy, sent major indexes on Wall Street tumbling overnight. Full story >>
Asian stocks fall amid US debt worry
Stock markets across East Asia are down on worries about a possible cut to the US debt rating. China's stocks ended lower Tuesday, with the benchmark Shanghai Composite Index falling 0.91 percent to close at 2,679.26. The Shenzhen Component Index edged was down 0.59 percent to finish at 11,932.04. Full story >>
Chinese rating agency downgrades U.S. credit rating after debt limit increase
Chinese rating agency Dagong Global Credit Rating Co. said Wednesday it has cut the credit rating of the United States from A+ to A with a negative outlook after the U.S. federal government announced that the country's debt limit would be increased. Full story >>
Related stories
Editor:Zhang Dan |Source: CNTV.CN