Watch Video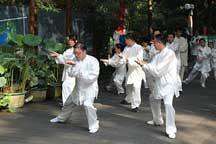 Play Video
Aug.8th marks the 3rd anniversary of the Beijing Olympics and the second National Fitness Day. China has invested billions of yuan in installing outdoor fitness centers throughout the country, but experts say there is still much to be done to improve the whole nation's health.
It is 7 o'clock in the morning. A new day has begun. In the fitness first park, many people begin their day by working out on fitness equipment and playing Ping Pong. 86-year-old Mr. Ma has been doing morning exercises here for 13 years, and this has become part of his life.
One resident said, " I think this place provides an excellent training spot for many ordinary people. It's free so many of us can have regular exercise each day. Only when more and more people get enough physical exercise can we strengthen the whole nation's health. "
However, training isn't just for old people, many young people also show great enthusiasm in doing exercise. One of them said, "As young people, many of us suffer from great pressure at work, I think doing some physical exercise on a regular basis is good for our health."
There are more than 850,000 gymnasiums and stadiums in China now, most of them are open to and widely used by the public.
"After the Olympics, many outdoor fitness facilities have been built. Many people develop a habit of regular physical activity, and this is the place where they begin their new day."
China's National Fitness Program, which was launched in 1995, aims to improve the health and physical condition of the population. And National Fitness Day was established in 2009.
Gregory Yingnien Tsang, current affairs commentator, said, "I'm glad to see that China has set aside August 8th as National Fitness day. Now things have changed drastically. "
China has fully demonstrated its sporting prowess at recent Olympics. But experts say winning gold medals shouldn't be the sole objective; much more attention needs to be paid to the overall improvement in the public's health.
Gregory said, "It is an overall approach and social practice, it requires government policies to back it up, and cooperation to participate, individuals and everyone else. So it's not something happen overnight, it's a long haul but it's very essential to get the job done as a whole."
The lasting impact of the Beijing Olympics will be seen on a generation of young people who are excited about sports. Given the rise of childhood obesity and declining amount of sport in schools, The National Fitness Day is more than just a slogan. It's a chance for everyone to think about their health and fitness.
Editor:Zhang Dan |Source: CNTV.CN