Watch Video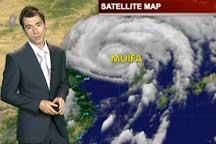 Play Video
For more on Typhoon Muifa, we are now joined in the studio by Darryl Snow from the China Meteorological Administration.
Q1: What's the latest on the typhoon and how is it impacting locals in Shandong Province?
Q2: Where is it heading and how will it develop over the next few days?
Q3: China's central Hunan province, is suffering from severe drought, what's the situation there? Is there any chance of rain in the coming days?
Editor:Zhang Dan |Source: CNTV.CN