Watch Video
Play Video
Shenzhen witnesses a record breaking performance from one of China's bright young swimming stars. Tang Yi, resetting the Universiade record in the women's 100m Freestyle on Monday evening.
Tang, who was a part of China's silver medal winning 4x100 medley relay team at the World Championships last month, edged ahead after the first 50m and never looked back. The Asian Games champion was impressive in the final sprint, eventually clocking a winning time of 54.24 seconds, setting a new Universiade record.
Tang Yi said, "I'm satisfied with the result and my performance tonight. I feel very tired competing here after the World Championships. Being able to win is an encouragement and comfort for me."
Tang Yi of China competes during the women's 100m freetyle final of swimming at the 26th Summer Universiade in Shenzhen, a city of south China's Guangdong Province, Aug. 15, 2011. Tang claimed the gold of the event with a time of 54.24 seconds, and set a new game's record. (Xinhua/Yang Shiyao)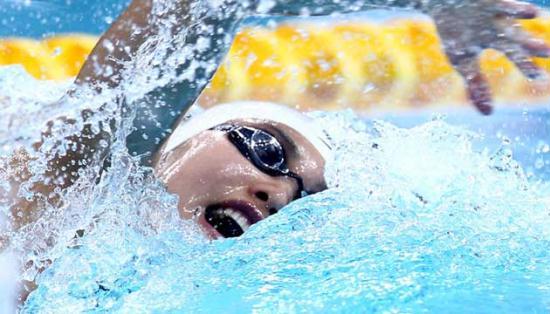 Tang Yi of China competes during the women's 100m freetyle final of swimming at the 26th Summer Universiade in Shenzhen, a city of south China's Guangdong Province, Aug. 15, 2011. (Xinhua/Chen Jianli)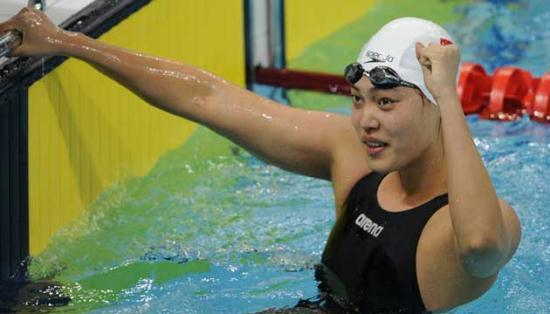 Tang Yi of China celebrates after winning the women's 100m freetyle final of swimming at the 26th Summer Universiade in Shenzhen, a city of south China's Guangdong Province, Aug. 15, 2011. (Xinhua/Yang Shiyao)
Tang Yi of China celebrates during the awarding cremony for women's 100m freetyle of swimming at the 26th Summer Universiade in Shenzhen, a city of south China's Guangdong Province, Aug. 15, 2011. (Xinhua/Chen Jianli)
Related stories
Editor:Zhang Dan |Source: CNTV.CN