Watch Video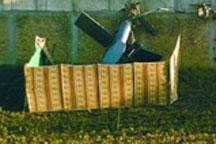 Play Video
China has rejected media reports that Pakistan gave it access to a radar-evading helicopter that crashed during the U.S. mission to kill Osama bin Laden.
China's Defense ministry said that the report was baseless and preposterous. The response comes after an international business newspaper reported that Pakistan allowed Chinese military engineers to photograph and take samples of the helicopter, before giving it back to the US.
A Pakistan official has also denied the charge, saying Pakistan was aware the US had bin Laden's compound and the helicopter wreckage under surveillance after the raid. The helicopter was one of two modified Black Hawks. Defense experts say it used radar-evading technology, plus noise and heat suppression devices, to slip across the Afghan-Pakistani border.
"Black Eagle" of US Army
US stealth helicopter, crashed during the commando raid to
Osama bin Laden in May
US stealth helicopter, crashed during the commando raid to Osama bin
Laden in May
China refutes claim of US stealth copter visit
China's Ministry of National Defense on Tuesday refuted the allegation that Pakistan gave Chinese military personnel access to a US stealth helicopter which crashed during the commando raid to Osama bin Laden in May. Full story >>
Related stories
Editor:Zhang Dan |Source: CNTV.CN