Watch Video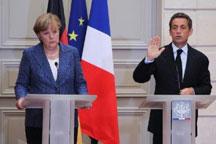 Play Video
The leaders of France and Germany have emerged from talks in Paris with an agreement to press for closer Eurozone cooperation and tougher deficit rules in a bid to ease Europe's sovereign debt crisis. However, CCTV correspondent Jack Barton reports that both leaders dismissed the idea of introducing Eurobonds as a possible solution.
The leaders of France and Germany meet in Paris for emergency talks aimed at solving Europe's sovereign debt crisis. But there were no major breakthroughs.
There are only a proposal that the 17 euro zone countries commit to balanced budgets and write that goal into legislation within two years, and a message that Germany and France remain commitment to the EU.
Nicolas Sarkozy, French President, said, "We want to express our absolute will to defend the euro and assume Germany and France's particular responsibilities in Europe and to have on all of these subjects a complete unity of views,"
President Sarkozy and Chancellor Merkel also used the meeting to propose closer economic governance but dismissed the idea of Eurobonds - an idea that has been gaining support right across the EU.
Angela Merkel, Chancellor of Germany, said,"I don t think there I just one solution for the Euro zone. And I don t think that with one stroke of the magic wand we are going to solve all the problems".
While Eurobonds would wipe away Europe's sovereign debt problem in the short to medium term Germany in particular believes they would be a disincentive to painful reform among troubled economies. Chancellor Merkel also believes Eurobonds would be an economic burden for German taxpayers.
Even among German officials who support the idea of Eurobonds many believe they should be a part of overall fiscal reform within the European Union, which would include the establishment of a central finance ministry that would oversee tax, spending and debt levels of individual countries. If that were to happen it would represent an enormous change for Europe.
Analysts warn the only serious alternative might prove even more of a threat to the EU's current structure. Daniel Gros, Director of Center for European Policy Studies, said, "There is a very strong consensus among European governments that they want to keep the Euro alive. There's two ways to do that. To pay for everybody or to say we have a rotten apple in our basket let's throw it out. And they haven't yet come to a conclusion on which way they want to proceed".
Supporting either option right now is considered politically dangerous among the leaders of the EU's core countries, including President Sarkozy and Chancellor Merkel. But the crisis is worsening.
Much lower than expected second quarter growth results for France and Germany indicate contagion has now spread to the Eurozone's core. Still, the expectation here is that leaders will not introduce strong reforms until they have no choice. And of course the hope is that those reforms do not arrive when it is already too late.
Editor:Zhang Dan |Source: CNTV.CN