Watch Video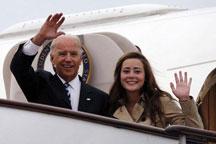 Play Video
In the wake of the US debt crisis and amid unease about arms sales to Taiwan, the US Vice President is visiting China until Monday. Besides meeting Chinese top officials in Beijing, he will also stop in Chengdu, the capital of southwest China's Sichuan Province.
The trip is his first to China since he took office in 2009. It comes after the US's loss of its top-tier triple A credit rating from Standard & Poor's. The White House says Biden's trip aims to boost Chinese investors' confidence in the US economy, as China is currently the US's largest holder of its debt.
Meanwhile, monetary policy is one of the biggest issues in China-US relations. The US alleges the yuan is undervalued, and has been pushing China to appreciate the currency. US arms sales to Taiwan have also been an issue between the two countries for many years.
As the 2012 general election approaches, some US lawmakers have started pressuring the Obama administration to sell F-16 fighter jets to Taiwan, at a cost of 4.5 billion US dollars. US media suggests Washington will announce its decision in September.
However, White House officials say it is not top of US Vice President Joe Biden's agenda. His visit to China is part of a trip that will also take him to Mongolia and Japan.
Editor:Zhang Dan |Source: CNTV.CN