Watch Video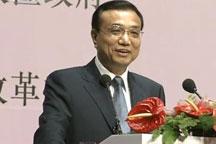 Play Video
Vice Premier Li Keqiang has also addressed a forum on economic, trade, and financial cooperation between the Mainland and Hong Kong. There he announced measures aimed at strengthening those ties.
The Mainland will take further steps to broaden market access for Hong Kong's service sectors. By the end of the period of the 12th 5-year-plan, a full liberalization of trade in service could be realized.
The central government will continue to support Hong Kong's participation in multilateral and regional economic cooperation, mainly providing support in the East Asia region. The central government will also give more weight to Hong Kong's interest and appeal when conducting free trade zone negotiations.
RMB Qualified Foreign Institutional Investors will be allowed to invest in Mainland securities markets. The central government will encourage more Mainland-based enterprises to get listed in Hong Kong.
Hong Kong-invested banks on the Mainland will be allowed to engage in mutual fund business, and more Hong Kong banks will be able to open more branches in Guangdong province.
Insurance companies could be given permission to enter the Mainland market in the form of equity participation. The development of insurance products will also be strengthened.
Cross-border trade settlement in RMB will be extended to cover the whole country, and support will be given to Hong Kong enterprises in making direct investment on the Mainland in RMB. Pilot projects for foreign banks to replenish capital with RMB will be launched.
More Mainland-based financial institutions and enterprises will be allowed to issue RMB bonds in Hong Kong. This will raise the amount of RMB bonds issued by Mainland institutions in Hong Kong.
By the second half of 2012, the west-east gas pipeline now under construction will be able to supply gas to Hong Kong.
Soon Hong Kong students will be able to attend several mainland universities without entrance exams. Wholly Hong Kong-owned hospitals will be allowed to open in all municipalities and provincial capitals.
Hong Kong travel agencies are encouraged to set up businesses on the Mainland. The central government will help implement the Framework Agreement on Hong Kong - Guangdong Cooperation.
It will also conduct the making of the regional tourism planning of Guangdong, Hong Kong and Macao. More support will be given to the cooperation in the aviation industry between Hong Kong and the Pearl River Delta. The central government also announced new measures for product certification and tackling climate change in Hong Kong.
Editor:Zhang Dan |Source: CNTV.CN