Watch Video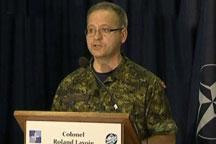 Play Video
NATO says Muammar Gaddafi and his government are already history. The military alliance stresses its current priority is to ensure the safety of the civilian population and prevent the counter-attack of pro-Gaddafi forces.
NATO spokesman Colonel Roland Lavoie says pro-Gaddafi forces are severely degraded and losing strength through desertions and defections. NATO's "Unified Protector" operation will continue until all pro-Gaddafi forces surrender or return to their barracks.
The alliance's warplanes have hit at least 40 targets in and around Tripoli in the past two days. That's a record for a single location since the bombing started 5 months ago. NATO has also made it clear that the UN and the Contact Group will take a leading role in a post-Gaddafi Libya. NATO will only play a supporting role and won't send ground forces.
Colonel Roland Lavoie, NATO spokesman, said, "But I could tell you that we remain vigilant and we will take out and strike at targets if they pose a threat against the civilian population. This is what we have done since the beginning and what we will continue to do with full determination."
Editor:Zhang Dan |Source: CNTV.CN