Watch Video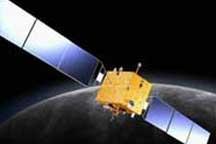 Play Video
There's been another breakthrough in China's lunar exploration program. According to the State Administration of Science Technology and Industry, Chang'e 2, China's second lunar probe satellite, has successfully entered deep space - at a distance of 1.5 million kilometers from earth.
A new era for China's lunar exploration - At 11:24p.m on August 25th, Chang'e 2 accurately entered the orbit of Lagrangian L2 point, which is 1.5 million kilometers away from the earth. This makes China the third country after the US and Europe to reach the point.
Wu Zhijian, deputy commander of Chinese Lunar Exploration Program, said, "This indicates Chang'e 2 has not only successfully accomplished its established mission, but exceeded expectations on the task."
Lagrangian points mark positions where the combined gravitational pull of the sun and earth precisely provides the centripetal force required to rotate with them. There are five Lagrangian points in the solar system, named L1 to L5. L2 is the ideal position to observe the sun. Chang'e 2 is predicted to stay in the orbit until late next year, while supervising sun activity and space as well.
The Chang'e 2 spacecraft was launched on October 1st 2010 in Xichang, southwest China. By April this year, Chang'e had successfully completed all its missions. As it had sufficient fuel left, scientists decided to give it three more tasks: to complete the image of the south and north pole of moon, to take high definition pictures of its landing area and to head to the Lagrangian L2 point. Chang'e achieved the lot.
Wu Weiren, chief designer of Chinese Lunar Exploration Program, said, "We have made full use of Chang'e 2's technology and resources, which have also helped us gather some experience for future exploration." Chang'e 2 will soon begin sending data back to earth.
Related stories
Editor:Zhang Dan |Source: CNTV.CN