Watch Video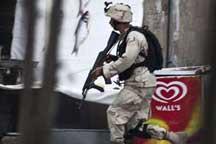 Play Video
Teams of insurgents firing rocket-propelled grenades and automatic weapons have struck at the US Embassy in the center of the Afghan capital Kabul. NATO headquarters and other buildings also came under attack.
The daylight attack in Kabul left seven people dead and 15 wounded. A rocket landed just outside the wall of the International Security Assistance Force headquarters. This sparked a rapid exchange of fire between ISAF soldiers and insurgents. No embassy or NATO staff members were hurt.
David Petraeus, CIA director, said, "A handful of individuals, five or so, perhaps wearing suicide vests, were able to move into a building that's under construction several hundred meters from the embassy and then to launch some small arms and RPGs (rocket-propelled grenades) into the area of the embassy. At least one of those, as I said, hitting in it."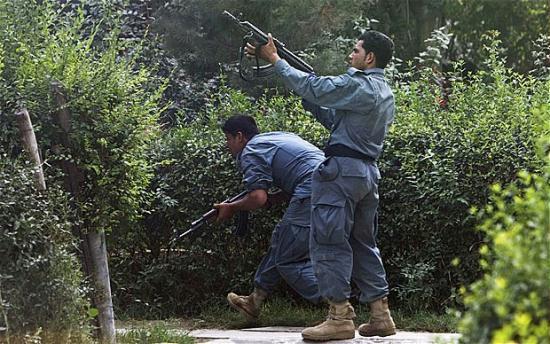 Afghan policemen fire towards a building taken over by Taliban insurgents in Kabul Photo: REUTERS
Late on Tuesday, at least two gunmen and other militants fired shots at the embassy from the top floors of a nearby apartment building. Sources say they may have had help from rogue elements in the Afghan security forces.
Suicide bombings exploded elsewhere in the capital. It's the first time insurgents have organized such a complex assault against multiple targets in separate parts of the city.
Afghan officials say the violence resulted in the deaths of three police officers and four civilians. Six insurgents were also killed.
David Petraeus, CIA director, said, "There were four Afghan citizens who were injured when an RPG hit the old chancery building, and three of those very lightly, one small girl, these were all waiting for visas, needed to go to the hospital across the road in the ISAF compound."
The Taliban have claimed responsibility after the attack. But Kabul's deputy police chief says he thinks it's the work of an affiliated organization, the Haqqani network. The Taliban and related groups have staged more than a dozen assaults in Kabul this year, including three major attacks since June.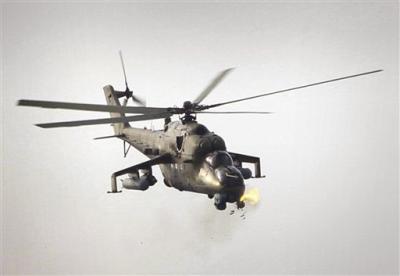 An Afghan military helicopter fires on a building which is occupied
by Taliban insurgents during a coordinated assault in Kabul,
Afghanistan, on Tuesday, Sept. 13, 2011. Taliban insurgents fired
rocket-propelled grenades and assault rifles at the U.S. Embassy,
NATO headquarters and other buildings in the heart of the Afghan
capital Tuesday while suicide bombers struck police buildings.
The U.S. Embassy and NATO reported no casualties. ((AP Photo/
Musadeq Sadeq))
An Afghan policeman takes position near the building which is
occupied by militants, unseen, in Kabul, Afghanistan on Tuesday,
Sept. 13, 2011. Taliban insurgents fired rocket-propelled grenades
and assault rifles at the U.S. Embassy, NATO headquarters and
other buildings in the heart of the Afghan capital Tuesday in a
brazen attack two days after the United States marked the 10th
anniversary of the Sept. 11 terror attacks. ((AP Photo/Musadeq
Sadeq)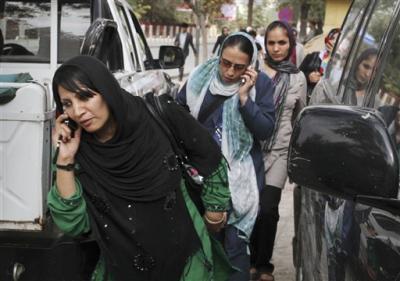 Afghan women, workers of the health ministry, call their families
during firing between the militants and Afghan security forces in
Kabul, Afghanistan on Tuesday, Sept. 13, 2011. Taliban insurgents
fired rocket-propelled grenades and assault rifles at the U.S.
Embassy, NATO headquarters and other buildings in the heart of
the Afghan capital Tuesday in a brazen attack two days after the
United States marked the 10th anniversary of the Sept. 11 terror
attacks. ((AP Photo/Musadeq Sadeq)
Related stories
Editor:Zhang Dan |Source: CNTV.CN