Related reading:
MUNICH (AP)—Mario Gomez scored twice in the first half as Bayern Munich weathered some early pressure before going on to beat Manchester City 2-0 in their Champions League match on Tuesday.
Gomez struck in the 38th and 45th minutes, both times knocking in rebounds after saves from City goalkeeper Joe Hart.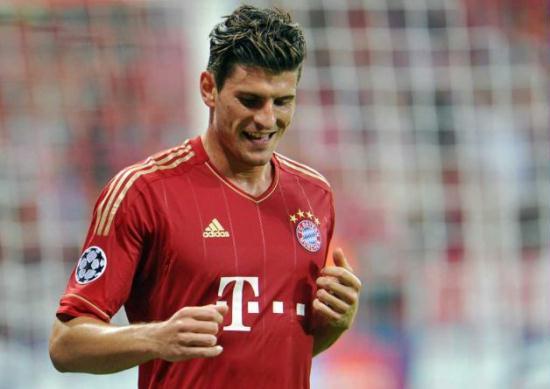 Munich's Mario Gomez celebrates after scoring during the Group A Champions League soccer match between FC Bayern Munich and Manchester City FC in Munich, southern Germany, on Tuesday , Sept. 27, 2011. ( Kerstin Joensson / AP)
The victory left Bayern fully in control of Group A with two wins from two matches and six points. Napoli beat Villarreal 2-0 and has four points. City's expensively assembled side has one and Villarreal is without points.
"We are very confident at the moment," Bayern's coach Jupp Heynckes said. His team has won six of the last seven Bundesliga matches and has not conceded in its last 10 games in all competitions.
"In the first 25 minutes they made it difficult for us, but we controlled the game after that. We defended better in the second half, we attacked them early," Heynckes said.
City will hope to post its first win when it hosts Villarreal next, but manager Roberto Mancini has more immediate problems to address after Argentina striker Carlos Tevez refused to come on as a substitute during the second half.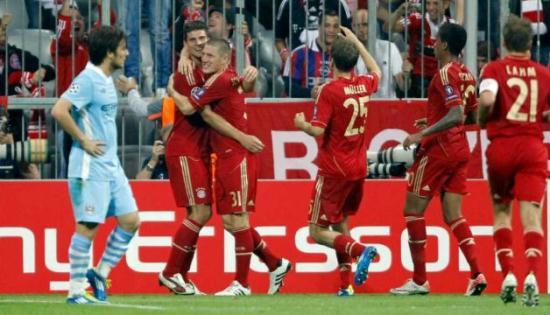 Bayern's Mario Gomez, left, hugs teammate Bayern's Bastian Schweinsteiger after scoring his side's second goal during the Group A Champions League soccer match between FC Bayern Munich and Manchester City in Munich, southern Germany, on Tuesday , Sept. 27, 2011. (AP / AP)
An angry Mancini said after the game he wanted Tevez out of the club.
"I can't accept this," said the Italian coach.
Mancini also had a disagreement with Bosnia striker Edin Dzeko, who was unhappy at being brought off in the second half, on an unhappy night for the Premier League club.
It was Dzeko who took the first shot at goal in the fourth minute but Manuel Neuer had no trouble scooping the ball.
Bayern's first real threat came after 30 minutes, when Joe Hart was unable to control a hard shot by Franck Ribery from the edge of the penalty area but no Bayern player was in position to collect the rebound.
Hart did better a few minutes later when he dived to his left to smother a shot by Bastian Schweinsteiger. Ribery then set up Thomas Mueller but his effort was deflected.
Bayern's first goal came with Hart unable to hold onto another shot by Ribery. Hart blocked Mueller's follow-up effort but Gomez pounced to finally put the ball into the net.
Sergio Aguero then got a yellow card for cutting down Schweinsteiger before Bayern completed the scoring.
Toni Kroos took a free kick from the left, swung the ball into the penalty area and defender Daniel van Buyten connected with a powerful header to the low right corner of Hart's goal. Hart dived to parry the shot, but Gomez again got the rebound and the ball bounced off Hart's body into the net.
"I was at the right place at the right time," Gomez said. "I don't know why we started badly, we were very confident ahead of the match. But after 30 minutes we were the better team."
Gomez could have made it three but he failed to control a cross from Philipp Lahm in the second half.
Hart did well to turn away Schweinsteiger's shot in the 72nd.
The City keeper palmed away a header by Gomez in the 79th off a free kick from Ribery and Mueller just failed to knock the ball in at the far post.
Neuer, hardly tested in the second half, stopped substitute Aleksandar Kolarov's hard shot and the Serb missed the target late in the match.
"We started well but we then we made mistakes in the defense," City midfielder Yaya Toure said.
Related stories
Editor:James |Source: CNTV