Related reading:
Thailand's worst flood kills 373, Bangkok residents brace for high tide

BANGKOK, Oct. 26 (Xinhua) -- Death toll of widespread floods in Thailand has climbed to 373 with two missing, Department of Disaster Prevention and Mitigation said on Wednesday.
The deluge still prevails in 26 provinces in central and northeastern parts of the country, affecting at least 2.4 million people.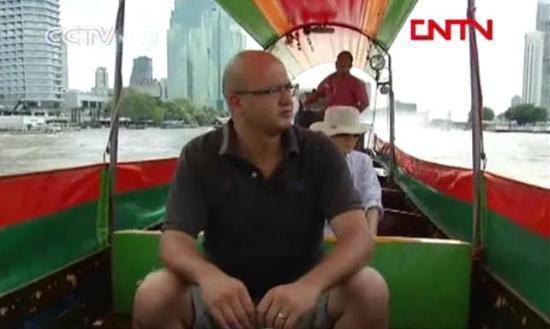 Thailand's worst flooding in 5 decades has affected nearly 2.5 million people. Authorities have declared 7 of out of the capital's 50 districts at risk. CCTV correspondent Tony Cheng visits flood defenses in Bangkok to see how they are bearing out.
Widespread and longstanding floods which were inflicted by heavy monsoon rains and tropical storms have since late July lashed 62 provinces in almost every part of the country except the South, affecting some 9.4 million people.
It becomes clear that Bangkok, the country's capital, will not be able to escape the worst floods in 50 years when Prime Minister Yingluck Shinawatra warned Bangkok residents on Tuesday night to brace for flooding.
The premier admitted that permanent floodwalls and temporary embankments might not be able to withstand the massive inundation. It is likely that even central and inner zones of the city will be affected, she added.
"Those areas along Chao Praya River and floodwalls along the banks will be at the highest risk," said Yingluck in a televised speech.
Bangkok residents living along Choa Praya River have been warned that the October 27-31 high tide would raise the river level to as high as 2.6 meters above mean sea level, which is higher than the city's concrete floodwall of 2.5 meters. It is, therefore, expected to see water overflowing banks along the Chao Praya River.
Actually, parts of Bangkok including Don Mueang, Sai Mai and Lak Si districts in the north and Bang Phlad district near the central have been flooded already.
Since Tuesday floodwater has penetrated into Don Mueang Airport where the government set up Flood Relief Operations Center (FROC) and shelter for over 4,000 flood victims. As the water on the road in front of the airport kept rising, the center had no choice but to start evacuation of those flood victims on Tuesday afternoon.
Budget airlines such as Nok Air and Orient Thai also suspended their services at Don Mueang Airport and shifted to Suvarnabhumi International Airport after the runways were inundated.
Yingluck reassured that her government would be able to protect Suvarnabhumi International Airport from flooding but said flooding in inner city was 50-50. However, water level in the city will be ranging from 50 centimeters to one meter if it is inundated, she said.
In the worst-case scenario, floodwater might remain in the capital for two weeks or a month, according to the prime minister.
Flooding challenges are still out there as massive water of about 4,000 million cubic meters from central Ayutthaya province are reaching Bangkok, coinciding with the high tide tomorrow.
Editor:James |Source: CNTV