Watch Video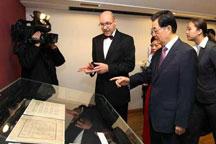 Play Video
Chinese President Hu Jintao is continuing his state visit to Austria. On Tuesday, he visited Austria's fourth largest city, Salzburg, where he went to a local farm in the suburbs. He also paid a visit to the residence of 18th-century composer Wolfgang Amadeus Mozart later in the day.
The Haas family had a very busy morning, as they received some important foreign guests. Dressed in the traditional Austrian costumes, displaying the Chinese national flag and playing local music, they welcome visiting Chinese President Hu Jintao, and his delegates.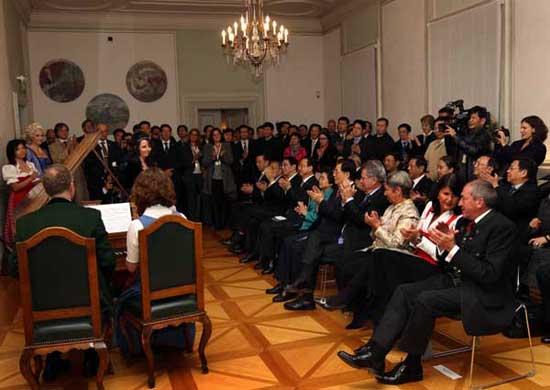 Chinese President Hu Jintao and his wife Liu Yongqing listen to a concert during their visit
to the Mozart's Residence in the company of Austrian President Heinz Fischer in Salzburg,
Austria, Nov. 1, 2011. (Xinhua/Lan Hongguang)
President Hu and his wife Liu Yongqing enjoyed a tour of Urbanhof farm, founded by the Haas family. Hu was shown the cows' shed and the milking room, and asked about the operations of the farm, which produces over 6 hundred tons of milk annually.
President Hu commented that China could draw great experience from the farm's management model and environmentally friendly development pattern.
Later in the day, Hu also visited the Salzburg residence of world-renowned composer Mozart. He listened to musical performances of some of Mozart's classical masterpieces, and expressed hopes that China and Austria could strengthen cultural exchanges.
On Tuesday evening, Hu attended a welcome dinner held in his honour by the Salzburg Governor and City Mayor.
President Hu flew into Salzburg from Vienna on Monday evening. During his stay in Vienna, he paid a visit to the Austrian National Library, accompanied by Austrian President Heinz Fischer.
This year marks the 40th anniversary of the establishment of diplomatic ties between China and Austria.
Following his trip to Austria, Hu will fly to France to attend the G20 Summit, slated for November 3rd to 4 in Cannes, France.