Watch Video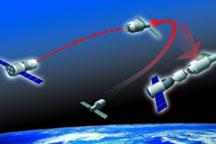 Play Video
China's unmanned spacecraft Shenzhou-8 has carried out its first maneuver in space since successfully launching on Tuesday morning.
Shenzhou-8 has completed its first change of orbit, less than a day after launching. Multiple changes of orbit are still to come as the unmanned spacecraft prepares to dock with Tiangong-1. Engineers on the ground are working hard to set the stage for the docking.
Bing Zengwu, engineer, said, "For us now it's all about preparing for the space docking, we are making calculations and monitoring the orbits of both of the spacecraft."
The margin for error in docking the two spacecraft is 20 centimetres. The procedure is set to take place early Thursday morning, when cameras onboard will capture the historic moment.
Chen Qiang, director of aviation control, said, "The footage captured by the cameras will be very important to us. From them we can actually see Tiangong-1 drawing in for the docking. Cameras outside the cabin will also record various details"
The rendezvous and docking exercises between the two vessels will be an important test of China's ability to master the technology required to run a full space lab that can house astronauts for long stretches. If the docking is successful, it will yield valuable experience for Shenzhou-9 and -10, set for launch in 2012, and a great boon to China's plans to build its own orbital space station.
Editor:Zhang Dan |Source: CNTV.CN