Watch Video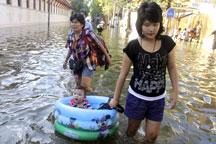 Play Video
The flood holiday in Bangkok has ended, and as the most dangerous point passed in the Thai capital, many residents have begun returning home.
But the floods still prevail in 147 districts of 26 provinces, affecting more than 2.1 million people. The country's Disaster Prevention and Mitigation Department reports a total of 384 people are now confirmed dead in the floods that have inundated many provinces since July 25th.
Meanwhile, the Public Health Ministry's Disease Control Department said more than 50 people may have died of electrocution, rather than the 17 initially believed. The department also said more than 4-thousand people have fallen ill from eating contaminated food.
Thai flood death toll reaches 427
A total of 427 people were confirmed dead and two people were missing in the floods that have inundated the upper part of the country for almost three months, the Disaster Prevention and Mitigation Department reported on Wednesday. Full story >>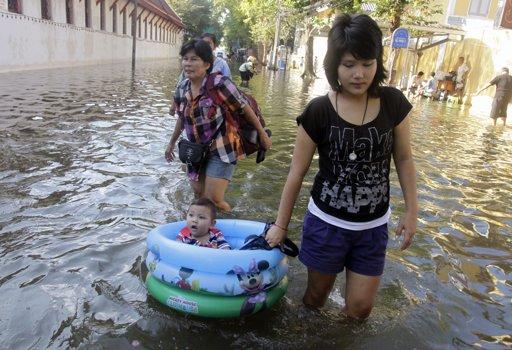 A Thai family wades through floodwaters in Bangkok, Thailand, Sunday, Oct. 30, 2011. Thailand's Prime Minister Yingluck Shinawatra is expressing optimism that Thailand's worst flooding in a half-century will mostly spare Bangkok. Some neighborhood dikes have overflowed, but the city's defenses otherwise have held firm during a weekend of critical high tides. (AP Photo/Sakchai Lalit)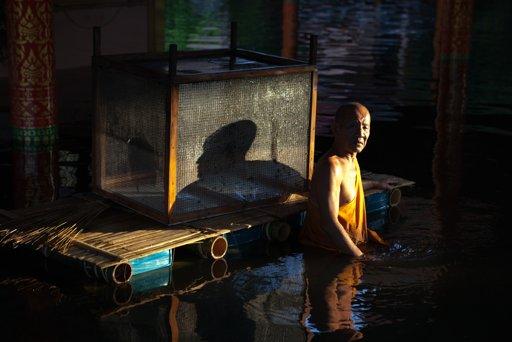 BANGKOK,THAILAND - NOVEMBER 1: A Thai monk wades through the dirty waters carrying a bird cage at the flooded Laksi temple November 1, 2011 in Bangkok, Thailand. Thousands of flood victims have been forced to take shelter at crowded evacuation centers around the capitol city. Hundreds of factories have been closed in the central Thai province of Ayutthaya and Nonthaburi. Thailand is experiencing the worst flooding in over 50 years which has affected more than nine million people. Over 400 people have died in flood-related incidents since late July according to the Department of Disaster Prevention and Mitigation. (Photo by Paula Bronstein /Getty Images)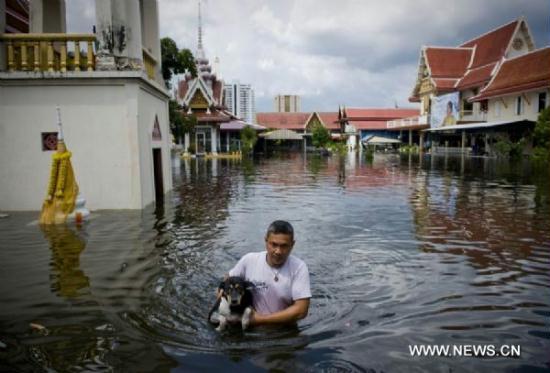 A man carrying his dog walks in flood in Bangkok, capital of Thailand, Oct. 29, 2011. People in Bangkok are bracing for the flood disaster, which has been ravaging the country for more than three months and shows no sign of receding. (Xinhua/Lui Siu Wai)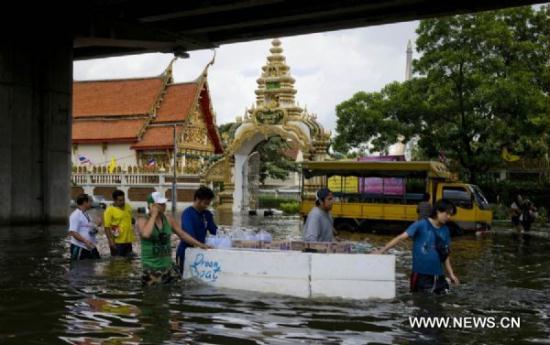 People transit food on the flooded road in Bangkok, capital of Thailand, Oct. 29, 2011. People in Bangkok are bracing for the flood disaster, which has been ravaging the country for more than three months and shows no sign of receding. (Xinhua/Lui Siu Wai)
Editor:Zhang Dan |Source: CNTV.CN