Watch Video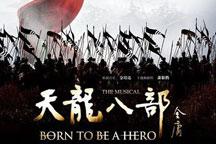 Play Video
A reform to boost China's cultural industry is underway throughout the country. The Beijing Performance and Art Group plays a leading role in the capital, and is planning a performance of a musical adapted from a Kungfu novel written by a famous Hong Kong novelist Jin Yong.
Musical Tianlongbabu is a story about swordsmen from various tribes a thousand years ago. The original work has been portrayed on film and television many times before.
But this is the first time it's been performed as a musical, and the cast is a mixture of artists from both Hong Kong and the mainland.
Andy Wing-Keung Chin, director of Musical Tianlongbabu, said, "I have never had any experience of producing such a musical. We didn't know what kind of art institutions would like to work with us. Fortunately BPA is very supportive. The theater they provide is very suitable for the show."
Hong Kong artists are getting more and more interested in working with their mainland counterparts.
Peter Kam, musical director of Musical Tianlongbabu, said, "I could do the same thing in HK. Maybe five or six shows, maybe ten. But it's difficult to do it in a long run."
Hua Ming, playwright of Musical Tianlongbabu, said, "Working with different people is a wonderful experience. The director and composer are from HK, the singers are locals, and BPA has brought us together "
In fact, BPA is one of the musical's co-sponsors, by providing the theater, which used to be an Olympic venue and idle for a long time. It's now one of BPA's assets.
Yang Linping, GM of BPA Cultural Facilities Investment, said, "We are trying to break down the boundaries separating artists working for different cultural institutions. If you want to have more audience or spectators, art performances should be market oriented, and bring in more resources from other industries."
During the past two years, BPA has brought in several separate local performance institutions into its management, to become the largest cultural organization in Beijing.
Editor:Zhang Dan |Source: CNTV.CN