Watch Video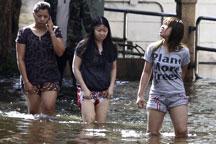 Play Video
In the worst-hit parts of northern Bangkok, floods are severely affecting daily life. But, some people have chosen to stay-on in the inundated areas to protect their homes and property, and do what they can to help those in need.
Canal village, one of the most severely flooded areas in Bangkok. Floodwaters are reaching as high as 2 meters and, among the 900 families in the village, only about 100 have stayed. One family was moving their refrigerator to the second floor after the ground floor of their home was completely flooded.
This elderly lady has stayed to protect her clothing factory. Much of the clothes she had in storage were soaked in the floods, forcing her to rewash and dry them. She says as long as she is alive, she will hold onto her factory.
Several people were trying to hang some curtains to keep out the sun. They used to be the village's guards, but now that the village is flooded, they are staying here to watch for danger, and warn locals of any surge in the floods.
Now that the worst of the flooding has passed, residents are expected to start coming home to the Thai capital in the coming days.
Related stories
Editor:Zhang Dan |Source: CNTV.CN