Watch Video
Play Video
Greek Prime Minister George Papandreou has finally agreed to step down amid mounting pressure. It's the latest swerve in the roller-coaster ride that has characterized Europe's persistent efforts to bail out Greece from its debt crisis over the past few months.
If all goes according to plan, an interim government will be sworn in within a week. It's hoped this will give a confidence boost to the euro bailout plan and the world economy.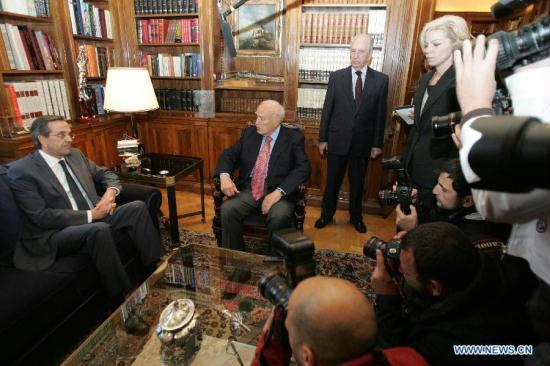 Antonis Samaras (1st L), head of the conservative New Democracy party, meets with Greek President Karolos Papoulias (2nd L) in Athens Nov. 6, 2011. Greek main opposition leader Antonis Samaras insisted on Sunday that Prime Minister George Papandreou should resign before any negotiations on a national coalition government. (Xinhua/Marios Lolos)
Deadlock broken - The Greek Prime Minister agreed to step down after a meeting with opposition leader Antonis Samaras.
Earlier, Samaras had refused to meet with George Papandreou on unless he resigned. It took President Karolos Papoulias to bring them together.
Elias Mosialos, Greek government spokesman, said, "I would say there was a very comprehensive and constructive discussion between the two leaders: the Prime Minister and the leader of the opposition and we have a very good result today."
The agreement was reached under massive pressure from Brussels, which urged Athens to show its seriousness about staving off bankruptcy before eurozone finance ministers meet on Monday.
One of the the interim government's missions is to lead Greece to formal elections next February. But its more urgent concern is to implement the much resented bailout package.
The latest political shift has drawn a mixed response from the public.
"There is no optimism, whatever happens it's going to be a vicious cycle, in other words it's too late, and there is no future."
"Yes, I do feel positive. If they finally did then I do feel positive, because the country has to be represented in a unanimous way."
Greeks have been staging violent strikes and protests to resist the austerity measures required by the bailout. And it's very likely that more will come.
The state treasury is about to run out of money in December. And threat of a catastrophic default on debt is imminent if not back up by bailouts.
Caught between the two situations, the interim government faces a tough challenge ahead.
Editor:Zhang Dan |Source: CNTV.CN