Watch Video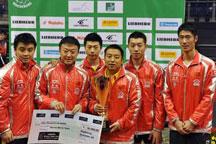 Play Video
In Germany, China has proven once again that when it comes to table tennis, they are the best in the world. China ran the tables for a clean sweep of the Table Tennis World Team Cup on Sunday.
In the men's final, China took on South Korea. The Chinese team, consisting of Ma Long, Xu Xin and Wang Hao.
Ma Long (L) and Wang Hao of China returns the ball to Oh Sang Eun and
Kim Min Seok of Korea during the men's final match between China and
Korea at the team's World Cup in Magdeburg, Germany, Nov. 6, 2011.
China won 3-0 and claimed the title. (Xinhua/Ma Ning)
Ma Long opened up the final against Korea's Ryu Seung Min. The opener would be closely contested with the Korean outlasting Ma to take the early lead thanks to a 13-11 win in the opener.
However, after that is was all the Chinese as Ma, completely dominated his Korean opponent over the next three by 11-7, 11-5, and 11-4 scorelines to give the Chinese team it's opening point and a 1-0 lead.
Next up for China was Xu Xin, who drew Kim Min Seok of Korea. This match was a closely fought contest as the two paddlers would split the first two sets, setting up a deciding fifth. In the final, Xu would jump out to the early lead and hold his Korean opponent at bay to take the match 3-2 and move China one win away from the World Team Title.
China, could wrap it up with a win in the doubles, and it was Wang Hao and Ma Long tasked with getting by Oh Sang Kim and Kim Min Seok. And the Chinese powerhouse pair, would lift China to the World Team Title with a 3-1 win. China, golden again as they claim a 4th straight men's World Team Title.
Ma Long of China returns the ball to Ryu Seung-min of Korea during the
men's final match between China and Korea at the team's World Cup in
Magdeburg, Germany, Nov. 6, 2011. China won 3-0 and claimed the title.
(Xinhua/Ma Ning)
Ma Long of China returns the ball to Ryu Seung-min of Korea during the
men's final match between China and Korea at the team's World Cup in
Magdeburg, Germany, Nov. 6, 2011. China won 3-0 and claimed the title.
(Xinhua/Ma Ning)
Related stories