Watch Video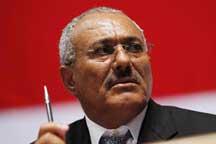 Play Video
The power transition deal is expected to put an end to the nearly one-year-long unrest in Yemen.
At the age of 20, Saleh joined the revolution that overthrew Yemen's royal regime half of century ago. He was elected Yemen's President and Chief Military commander in 1978. But his 33-year-rule was challenged early this year, when massive protests broke out demanding his ouster.
In April, the Arab States of the Gulf offered a deal for Saleh to step down peacefully and with immunity. The deal demanded the founding of a coalition government led by the opposition, the resignation of Saleh and a presidential election.
While Saleh had promised to accept the deal several times, he constantly went back against his word and refused to sign the agreement. The opposition forces then began to launch attacks on governmental targets in the capital Sanna.
In early June, Saleh was wounded in an attack on his presidential palace. He then went to Saudi Arabia for medical treatment, and left his deputy, Hadi in charge.
In late October, the UN Security Council passed a resolution, demanding an immediate signing of the deal. After six mediation tours of a UN envoy and drastic changes in Libya, Saleh finally signed the deal.
Many believe the peace deal is Saleh's best chance to step down without being punished and prosecuted. But the poverty-stricken nation still faces multiple challenges, including terrorism threats, competing power groups and separatist forces in the south.
How to unify all the groups and prevent a political fall-apart is the daunting priority.
Editor:Liu Fang |Source: CNTV.CN