Watch Video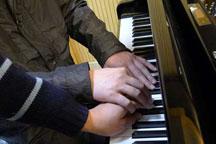 Play Video
December 3rd is the International Day of Persons with Disabilities which will begins a new campaign with the theme "together for a better world". CCTV will focus on a special group of professionals in China, visually impaired piano tuners.
It may sound like a concert is going on in this Beijing church. But actually, this tuner is just testing out the keys and strings of this piano. What makes this tuner remarkable, is that he does it without being able to see a thing.
Though he lost his sight at a very young age, this young man is an expert at the piano.
Though he lost his sight at a very young age, this young man is an expert at the piano. Even though he once took part in the opening ceremony of the Paralympics, he says his great moment comes from tuning a piano.
Yang Kang, piano tuner, said, "Once I came to a client's house for piano tuning, and the client didn't know I was totally blind at first. After I finished my job and told him about my sight. He was so surprised and gave me a lot of praise for my work. I also played piano for him and afterwards we became very good friends."
There are over 200 strings and 8000 small parts in a piano, so it's no wonder many of clients initially have concerns about the ability of visually impaired piano tuners. But actually they don't need to worry because all these blind tuners have undergone rigorous training and can do the work to high standards.
The number of pianos in China has increased substantially since the 1990s. It was this that led the Beijing School for the Blind to introduce piano tuning program, so it would give the blind a new career option. Hundreds of piano tuners now graduate from the school and their work has won appreciation from thousands of clients of the country.
Li Renwei, senior teacher of Beijing School for the Blind, said, "Public awareness is rising for disabled people in recent years, and I hope the society can also consider us as contributors rather than recipients. When my students start their new career, they need more encouragement and respect. It's not easy for a disabled person to find a job, so once they get the chance, they will work very hard and be very responsible."
The students who walk out of this school will start working in piano tuning and other professions; some might even start their own business. When equal chances are given and people are empowered to participate, their involvement will benefit everyone; with or without a disability.
Editor:Zhang Dan |Source: CNTV.CN