Watch Video
Play Video
Ten years ago, the first meeting on Afghanistan was held in Bonn. The meeting closed with the Bonn Agreement, which outlined the blueprint for rebuilding Afghanistan. Hopes were high for an end to the chaos caused by war. However, ten years later, those dreams have still not become reality.
After the September 11th terrorist attacks in 2001, the US launched a war on Afghanistan and toppled the Taliban regime. A conference was called in Bonn to discuss how to rebuild the country and reconcile domestic conflict. In the same year, the United States sent security forces to shoulder the responsibility of creating a peaceful and stable environment.
Afghan President Hamid Karzai (R) and visiting German President Christian Wulff
attend a press conference in Kabul, Afghanistan, Oct. 16, 2011. Important issues
about Afghanistan, including security transition, regional cooperation and peace
process will be discussed in Bonn at the end of this year, Afghan President Hamid
Karzai said here on Sunday. (Xinhua/Ahmad Massoud)
In 2004, the US gave the command power to NATO in order to focus on its war on Iraq. After that, NATO-led security forces strengthened their attack on Taliban forces. However, violence continued to rise.
In 2009, Barack Obama took office as US President and he began to readjust strategy on Afghanistan. At the end of the year, the US announced a retreat from Afghanistan, and plans to hand over full security responsibility to Afghan security forces by 2014.
In May this year, US troops killed Osama bin Laden, the head of Al-Qaida.
After ten years of the anti-terrorism campaign, Afghanistan has achieved progress in many areas including education and medical care. But the war, which cost more than 400 billion US dollars, has not resulted in peace and stability.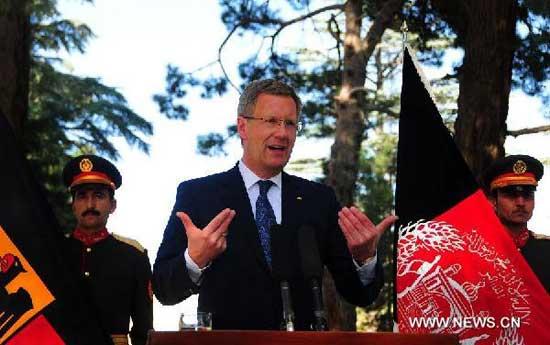 German President Christian Wulff speaks during a press conference in Kabul,
Afghanistan, Oct. 16, 2011. Important issues about Afghanistan, including security
transition, regional cooperation and peace process will be discussed in Bonn at the
end of this year, Afghan President Hamid Karzai said here on Sunday. (Xinhua/Ahmad
Massoud)
Related stories
Editor:Zhang Rui |Source: CNTV.CN