Watch Video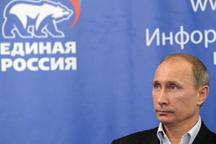 Play Video
Russias ruling "United Russia" party, led by Prime Minister Vladimir Putin, looks set to win Sunday's State Duma elections, according to exit polls and partial results. But the party's majority has taken a significant hit, with its overall share falling to just below 50 percent.
The celebrations are on hold -- and they're likely to be somewhat muted.
With 70 percent of districts now counted, United Russia stands at 49.99 percent. It's followed by the Communist Party on just below 20 percent. Then the Liberal Democrats and the "Just Russia" party. Three other small factions gained less than 3 percent of the vote each.
Prime Minister Vladimir Putin, with the emblem of the United Russia party in the
background, visits the United Russia party headquarters in Moscow, Saturday, Dec. 4,
2011.
Compared with 64.3 percent in 2007, it's a significant fall in support for Vladimir Putin's party. Some analysts say Russians are starting to grow weary of the man who's dominated Russian politics for more than a decade.
But President Dmitry Medvedev still sees it as a positive result. He said: "Democracy is in action. The party had a good showing. The party in fact represents 50 percent of our population, but the final numbers will be determined later. But at the same time it is the result of real democracy which is in action, no matter what is said."
Putin, who has long maintained a somewhat tough image, said the result would provide long term political stability for Russia. He said: "No doubt, we can now ensure the stable development of the country. Many thanks to everybody who helped to produce this result."
United Russia was set up on December 1st, 2001. The party gained a full working parliamentary majority in 2003, and has governed ever since.
If the remaining results follow the same pattern, the party will maintain its power base in the Duma -- but it will have to rely on the support of some of the smaller groups. At just under 50 percent, there is the small potential that United Russia could be out-voted on certain issues -- but only if the other parties manage to organize and group together.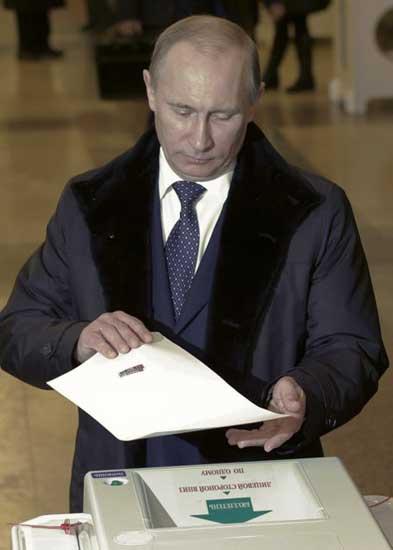 Russian Prime Minister Vladimir Putin casts his ballot at a
polling station in Moscow, Russia, Sunday, Dec. 4, 2011.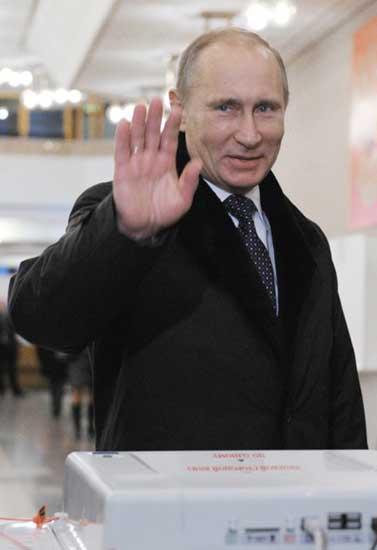 Russian Prime Minister Vladimir Putin greets journalists after
voting at a polling station in Moscow, Russia, Sunday, Dec. 4, 2011.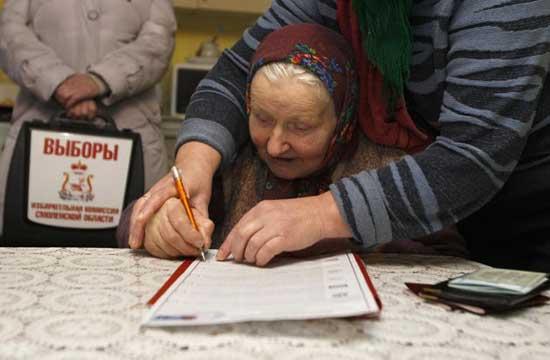 Elizaveta Semenova is helped by her daughter to fill in a ballot paper at her home in
the village of Oster, 380 km (237 miles) west of Moscow, Sunday, Dec. 4, 2011.
Related stories
Editor:Zhang Rui |Source: CNTV.CN