Watch Video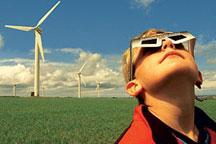 Play Video
Renewable energy experts in the United States say the country is a long way from being able to produce most of its electricity from sources other than fossil fuels. Thirty-five US states have goals for renewable power generation.
But, according to the most recent figures from the Department of Energy, renewables contribute to only eight-percent of America's total energy demand. As CCTV correspondent Steve Mort reports from Colorado, the US is up against many of the challenges faced in countries trying to ramp-up supplies of electricity from alternative sources.
Wind-power is the fastest growing renewable source of electricity in the US. Wind-generated power increased more than 30 percent from 2008 to 2009.
Jan Kjaersgaard, vice president of Wind Power Americas Business, said, "Many states have a renewable portfolio standards, so in many states you have a certain portion of your electricity generated by renewables".
But wind still only accounts for about a tenth of the renewable energy generated in the United States. According to some scientists, there are major stumbling blocks to wind.
Stephen Lawrence from Renewable and Sustainable Energy Institute, said, "The biggest obstacle to increasing wind is the intermittency of wind energy. The wind doesn't always blow, it often blows in the middle of the night when power demand is lowest and so there's this issue of having enough power at the right time. In the utility industry they say that wind is not "dispatchable," which means you can't control it, that you take it when it blows and you don't have it when it doesn't blow. The utilities are very conservative, they have a hundred year history of focusing on reliability and because of that they're concerned about suddenly having to shut people's power off and having a blackout if the wind stops blowing unexpectedly."
On windy days, farms like this one may generate more electricity than is needed. But existing technology makes it much easier to cut-off electricity from a wind farm than from a traditional coal-fired power station. It means, in the event of a surplus, wind energy is dumped in favor of electricity from coal.
Many renewable energy advocates say a better way needs to be developed to manage electricity from sources like wind and solar.
Tony Frank, executive director of Colorado Renewable Energy Society, said, "At times we think of wind energy being great one day and not so great the next day. Solar power is not that great at midnight for most projects. So we have to look at how we develop smarter systems, and that's both on the systems and operations and on the infrastructure side, of how we take this plentiful resource - wind, solar and other types of resources - and integrate them into a system that needs to have an infrastructure that thinks smarter."
And the ability to rapidly build wind farms has left existing electrical infrastructure struggling to keep up.
Tony Frank, executive director of Colorado Renewable Energy Society, said, "You can build a wind project more quickly than you can build a large fossil fuel plant. But some of the issues in the past have been you can't start a transmission line that may not go to where a project is. But if you're starting a transmission line on a fossil fuel project that takes a number of years to build - and those are happening simultaneously - that makes sense. It doesn't make sense to have a wind project up with no transmission line there yet."
The United States consumes more solar and wind energy than any other country. But overall it trails China in renewables, mostly due to China's heavy investment in hydroelectric production.
And with economic conditions still tight in the US, electricity companies are reluctant to spend large sums of money building renewable capacity.
Stephen Lawrence said, "It takes money and time to build a wind farm. While they are coming on much more rapidly than they used to, they still take a long time to get designed and built and permitted and just get them constructed, and do the financing and everything else."
But despite the problems facing renewables, the US government predicts renewable-generated electricity will account for 17 percent of total US electricity generation in 2035. And here in Colorado, the state has issued an even loftier goal of 30 percent to be achieved by 2020.
Related stories
Editor:Zhang Dan |Source: CNTV.CN