Watch Video
Play Video
Just days after the first parliamentary elections since the fall of Hosni Mubarak, Egypt's interim military rulers have reasserted their power by swearing in a new Cabinet. The military will also appoint a council to oversee the drafting of a new constitution, as concerns grow over the dominance of Islamist parties.
This is the second government to be sworn in since Hosni Mubarak's demise. It comes in the wake of last month's deadly clashes between security forces and protesters demanding the resignation of the first interim administration.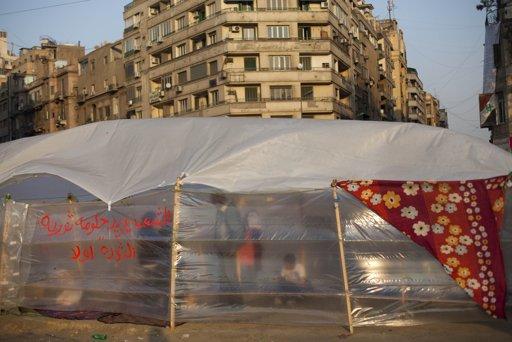 Egyptian protesters gather inside a tent in Tahrir Square in Cairo, Egypt, Monday, Dec.
5, 2011. The Arabic text reads "the people want revolutionary government." A runoff
Monday for Egypt's first-round parliamentary elections exposed tensions between
competing Islamist parties that have so far dominated the vote.(AP Photo/Bernat
Armangue)
Now Egypt is in the hands of the new caretaker Prime Minister, Kamal el-Ganzouri - once a prime minister under Mubarak and one of country's leading economists.
The ruling military council has promised him all the powers of a state president, except judiciary power and the command of the armed forces.
Meanwhile, the opening round of the first elections since Mubarak's fall has wrapped up, showing a huge victory for Islamist parties over their fragmented liberal rivals.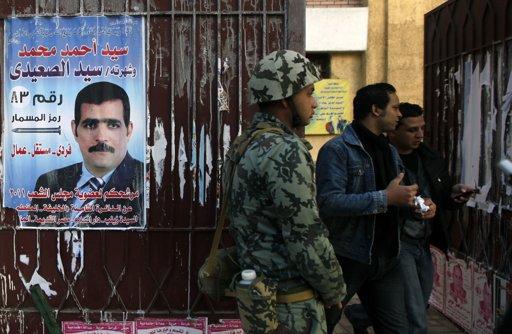 Egyptian voters leave a polling center as an army soldier stands guarding in Cairo,
Egypt, Tuesday, Dec. 6, 2011. The runoff for Egypt's first-round parliamentary
elections has heated up tensions between competing Islamist groups that have so far
dominated the vote, with scuffles breaking out and allegations of death threats.
Arbic election poster showing candidate Sayyed Ahmed Mohammed. (AP Photo/Khalil Hamra)
The Muslim Brotherhood's Freedom and Justice Party captured nearly 40 percent of the ballot, followed by the ultra-conservative Salafist Nour Party, which garnered nearly a quarter.
Abdel Moez Ahmed Ibrahim, head of Election Commission, said, "The Egyptian people participated enthusiastically at a rate which exceeded all expectations. Political activity on a religious basis is not allowed, nor is the use of logos or symbols in election propaganda of a religious nature."
The result was a devastating blow for the mostly secular and liberal youth who drove the unrest.
Fearing an Islamist takeover, the military rulers are concerned the next parliament will not be representative enough. To alleviate these fears, it says it will appoint a council to check the influence of religious extremists during the drafting of a new constitution. This is crucial as it will determine the nature of Egypt's post-Mubarak political system.
The vote - which is being held in three stages - is believed to be the freest and fairest in Egypt's modern history. But the final two rounds are not expected to loosen the grip of the Islamists.
Related stories
Editor:Zhang Dan |Source: CNTV.CN