Watch Video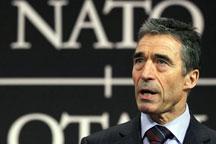 Play Video
NATO foreign ministers have arrived in Brussels for a two-day meeting. With a focus on improving relations with Russia regarding missile defense, the Alliance's Secretary General and the British foreign secretary said NATO should cultivate more allies.
A look back at NATO's major military operations in 2011- Regarding Afghanistan, NATO Secretary General Anders Fogh Rasmussen reiterated NATO's commitment to the country beyond 2014 -- the date set to complete the transfer of security from foreign troops to Afghan police.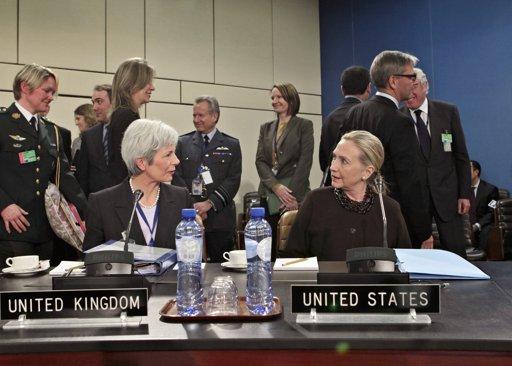 U.S. Secretary of State Hillary Clinton attends a foreign ministers conference at the
NATO headquarters in Brussels December 7, 2011. At left is Mariot Leslie, Britain's
permanent representative to NATO. REUTERS/J. Scott Applewhite/Pool (BELGIUM - Tags:
POLITICS)
Along with Rasmussen, the British Foreign Secretary William Hague also used the gathering to take stock of the past year, with a focus on the intervention in Libya, citing it as an example to follow.
And both said the military alliance should open up to new allies. William Hague, British Foreign Secretary, said, "Well I think NATO had a very successful year. Of course 2011 will always be remembered for the operation in Libya where NATO showed how well we can work with countries from outside the immediate NATO area, worked together flexibly, with new allies. So I think that has set a very good example of what NATO can do."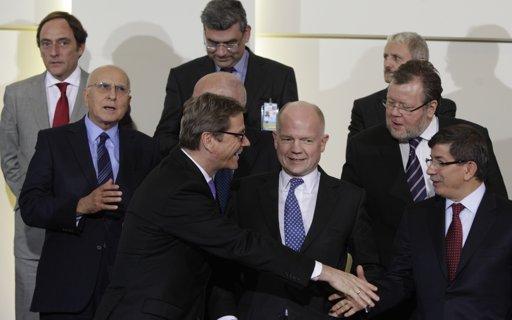 German Foreign Minister Guido Westerwelle, front left, reaches out to shake hands with
Turkey's Foreign Minister Ahmet Davutoglu, front right, during a group photo of NATO
foreign ministers at NATO headquarters in Brussels on Wednesday, Dec. 7, 2011. NATO's
foreign ministers, in a two-day meeting, will review progress in Afghanistan, plans for
a missile defense system, and troubles in Kosovo. Standing front center is British
Foreign Minister William Hague. (AP Photo/Virginia Mayo)
During the talks, Rasmussen stated that as significant events continue to unfold in North Africa and the Middle East, NATO needs to deepen cooperation with countries that ask for assistance, especially regarding defense and security sector reforms.
Meanwhile, Rasmussen said relationships between NATO and Russia could and should progress further over missile defense.
Anders Fogh Rasmussen, NATO Secretary General, said, "NATO remains committed to dialogue but we have also noted that Russia is prepared to respond to our plans by deploying missiles in areas neighboring the alliance. I have to say that such responses remind us of the confrontation of a bygone era and they suggest a fundamental misunderstanding of the scale of our missile defenses and of their purpose."
Rasmussen acknowledged that while NATO is cooperating with Russia on Afghanistan and other areas, progress on missile defense has been slower than expected. Rasmussen says he is hoping to bridge differences with Russia in time for a NATO Summit in Chicago next May.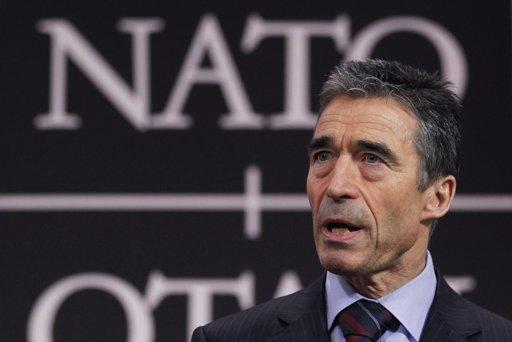 NATO Secretary General Anders Fogh Rasmussen addresses a news conference during a NATO
foreign ministers meeting at the Alliance's headquarters in Brussels December 7, 2011.
REUTERS/Francois Lenoir (BELGIUM - Tags: POLITICS MILITARY HEADSHOT)
Related stories
Editor:Zhang Dan |Source: CNTV.CN