Watch Video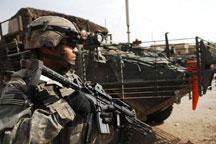 Play Video
The withdrawal of American forces follows an agreement signed by both sides in 2008, which said that all US forces would be out of the country by December 31, 2011.
Iraq and the US began their talks about the withdrawal at the beginning of 2008. The US hoped to keep some soldiers in Iraq to train security forces in return for its forces' immunity from prosecution. But Iraq said no and insisted on punishing any US soldiers guilty of any crimes.
The United States is to spend more than $6 billion in Iraq in 2012 even though its
forces are to withdraw from the country by the end of this year, US ambassador James
Jeffrey said on Sunday. (AFP Photo/Ali al-Saadi)
Finally, the US had to agree to pull out all of its forces, symbolizing the end of the nearly nine-year-long war. US President Barack Obama also promised on October 21st this year that all troops would leave by that date. Another reason the US decided to withdraw is domestic pressure.
In 2007, 55 percent of Americans believed that the Iraq war was a mistake and 51 percent favored troops coming home. The US Congress even passed a bill for Iraq setting a withdrawal deadline. But the withdrawal has not hit US business in Iraq. During his visit to Washington this month, Iraqi Prime Minister Nouri al-Maliki said Iraq has "limitless" opportunities for American firms.
Editor:Zhang Dan |Source: CNTV.CN