Watch Video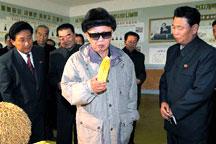 Play Video
In the 1960s, the DPRK proposed the development principle of Juche, meaning "self-governance in politics, self-reliance in economy, and self-defense in national defense", which it has followed ever since.
Starting from 2008, the DPRK made constructing a powerful nation its target. In 2011, it set up the National Economic Development Bureau, and issued a Ten-Year Strategic Plan for National Economic Development. Economic development is now the top priority.
In 2002, the DPRK issued the July 1st Measures to Improve Economic Management. These included decentralization of the planned economy, exchange rate reforms, price, and salary reform. It was the start of improving the economic environment.
In the following year, a partial market economy system was introduced, by establishing government-controlled comprehensive markets. The country also set up three special economic zones, in Sinuiju, Geungangsan, and Kaesong.
In early 2010, Rason City, near the border with China and Russia, was designated by the government as a special city. Eight big cities, including Pyongyang, were groomed into new special economic zones. The policy of opening-up to foreign capital and favorable tax policies were also adopted. And the DPRK National Development Bank and Daepung International Investment Group were established.
In early 2011, came the National Economic Development Bureau, and a Ten-Year Strategic Plan for National Economic Development. Strategic goals were charted in terms of infrastructure, agriculture, electricity, and coal mining. The government also formulated the 2012 Framework of Opening the Door of a Powerful Nation.
Pyongyang has prioritized economic exploration its national strategy.
China has been a major trading partner for many years. At the end of the1990s, two-way trade volume only reached 430 million US dollars. By 2005, it was nearly 1.6 billion.
In recent years, bilateral economic cooperation has extended to many aspects. China has built factories for free for the DPRK and provided economic and engineering training. There have also been joint-invested companies.
Currently, the two countries focus more on mutual benefit, and have started to apply market economy principles in trade and investment.
Editor:Zhang Dan |Source: CNTV.CN