Watch Video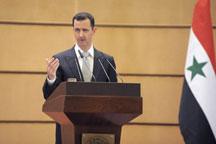 Play Video
The US government has sharply criticized Syrian President Bashar al-Assad's address. The State Department says Assad's announcement that he would use an iron hand to crush what he called the terrorists and saboteurs behind Syria's uprising, shows that no one's efforts so far have been able to halt the violence against Syria's people. Russia has also been urging the Syrian government to curb violence.
US State Department spokeswoman Victoria Nuland said Assad blames a foreign conspiracy that's so vast that it now includes the Arab League, most of the Syrian opposition and the entire international community. She also noted that Assad seems to aggressively deny any responsibility or any hand in the role of his own security forces.
The US has been calling on Assad to step down for months, convinced that he has no interest in reform. Nuland says the US will continue to support Arab League efforts to wring concessions from Assad, even though the US considers his leadership illegitimate.
Meanwhile, Russian Foreign Minister Sergey Lavrov talked with Arab League Secretary General Nabil el-Araby about the Syrian situation. Lavrov told him Russia supports the efforts made by observers sent by the Arab League to maintain stability in Syria.
He also stressed that violence has to be stopped in Syria. He noted that the observers should also pay attention to sabotage by other factions of Syrian armed forces. He called on the Syrian opposition to distance themselves from those armed forces with ulterior motives.
Related stories
Editor:Zhang Dan |Source: CNTV.CN