Watch Video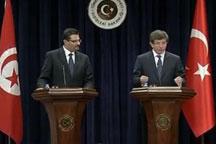 Play Video
Turkish Foreign Minister Ahmet Davutoglu and his Tunisian counterpart have called for an end to the bloodshed in Syria.
At a meeting on Tuesday between the two officials, the Turkish Foreign Minister warned Syrian President Bashar al-Assad that he wouldn't be able to appease his country by making televised statements, and called on the Syrian leader to meet the demands of his people.
The Tunisian Foreign Minister expressed his support for the Arab League, but also hoped that the Syrian people will work out their own way through the crisis. The UN says some 5,000 people have been killed in Syria since anti-government unrests began in March.
Meanwhile, Syrian opposition has released a statement saying that al-Assad's speeches will not stop the nationwide protests against his rule. The SNC also called for more international pressure on the Syrian government.
The SNC is a partially recognized government in exile based in Istanbul, Turkey, and runs the Free Syrian Army, which is composed of Syrian armed forces that have defected from the government during the uprising.
Editor:Zhang Dan |Source: CNTV.CN