Watch Video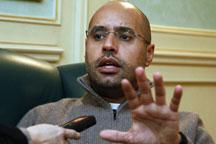 Play Video
The International Criminal Court has granted Libya more time until January 23rd to provide answers to its questions regarding Saif al-Islam Gaddafi, son of deposed leader Moammar Gaddafi. However, Libyan authorities say they needed three more weeks until January 31 to supply the information.
Saif al-Islam was arrested in southern Libya in November, and is still being held in custody by Libyan fighters.
Saif al-Islam Gadhafi, son of deposed Libyan leader Moammar Gadhafi, gives an in Tripoli
on February 26, 2011.
The government had requested extra time to respond to the ICC, citing the 'security situation' in the North African country. Libyan Justice Minister Ali Hemada commented on the situation.
Ali Hemada said, "We appealed against the decision of the ICC and we had been given a January 12th deadline to provide this appeal. We gave them the appeal and it was accepted. It was postponed for three weeks and we expect that this appeal will be to the benefit of the Libyan state."
This image taken from new video which has become available Tuesday Nov. 22, 2011, shows
Moammar Gadhafi's son Seif al-Islam as he is transported by helicopter from southern Libya
where he was captured towards the town of Zintan. (APTN)
Editor:Zhang Dan |Source: CNTV.CN