Watch Video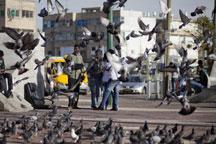 Play Video
The Israeli Parliament has approved a new package of harsh penalties on illegal migrants and Israelis who help them. The bill has touched off a hot debate in the country.
The package is part of a controversial set of measures designed to stop people from African nations seeking sanctuary in Israel from poverty and conflict.
The new bill makes it possible to imprison illegal migrants for life over property crimes and detain them for up to three years without trial.
Anyone caught helping migrants could face prison terms of five to 15 years. For many refugees, the new law does not make any sense.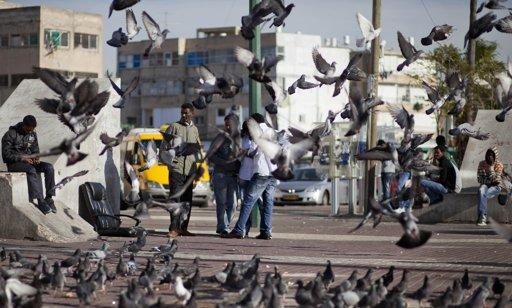 Migrant workers from Africa gather at an outdoor square in Tel Aviv, Israel, Tuesday,
Jan. 10, 2012. Israel's parliament on Tuesday approved harsh new penalties on illegal
migrants and Israelis who help them, building on other contentious measures designed
to stanch the flood of Africans seeking sanctuary here. (AP Photo/Dan Balilty)
Baso Ibrahim, Sudanese refugee, said, "I feel very bad, because jail is not the right place for the refugees, because the jail is for the criminals. I didn't come here to Israel for money or for a job. I came here because I have a war in my country and I escaped from my country to save my life."
Israeli Prime Minister Benjamin Netanyahu, who has called the swelling number of illegal migrants a "national scourge," voted for the bill.
But critics deplore the new law as an unconstitutional trampling of human rights.
FILE- In this Aug. 20, 2007 file photo, a Sudanese refugee family sit on the ground
surrounded by Israeli army soldiers after they crossed illegally from Egypt into
Israel.
Yonatan Berman, head of Clinic for Migrant & Refugee Rights, said, "International law prohibits the arrest of asylum seekers, it prohibits the arrest of refugees. It rules that the demands of asylum should be evaluated while the person isn't under arrest. Israel is reacting, or has decided now to react in a way that does not stand by the standards that most of the countries of the world are using."
The number of migrants has surged as word spread of safety and job opportunities in the relatively prosperous Jewish state. The government estimates that 50, 000 migrants from Africa have illegally entered Israel since 2005.
Some Israelis call the migrants an economic and social burden and fear their mounting numbers will dilute Israel's Jewish character. Others say the Jewish people, because of their history of persecution, must be especially accommodating of others escaping persecution or conflict.
Israel already has repatriated hundreds of African migrants and Netanyahu has said he would explore the possibility of repatriating others when he visits African countries this year.
Related stories
Editor:Zhang Dan |Source: CNTV.CN