Watch Video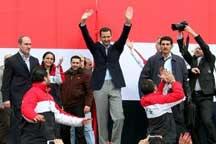 Play Video
Syrian President Bashar Al-Assad has joined thousands of his supporters at a pro-regime rally in the Syrian capital, Damascus. During the rare public appearance on Wednesday, Assad promised to conduct reform, while vowing to continue his hard line policy and pledging to defeat what he called 'conspiracies' against his country.
A rare public appearance for embattled Syrian President, Bashar Al-Assad - Surrounded by security guards and addressing supporters waving his portraits and Syrian flags, Assad said he was determined to stay in the capital.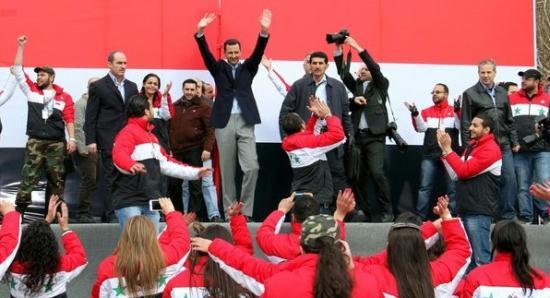 The Syrian president, Bashar Al-Assad, center onstage, waved to his supporters in Damascus
on Wednesday.
Bashar Al-Assad said, "I wanted to be with you in Damascus, in the heart of the capital, which some parties wanted to change from a land of harmony, love and peace to a land of destruction, killing and ruins. But, they will not succeed in achieving this goal."
The public appearance came a day after he delivered his first speech since June, warning he would strike back with an "iron hand" at those who threaten his government.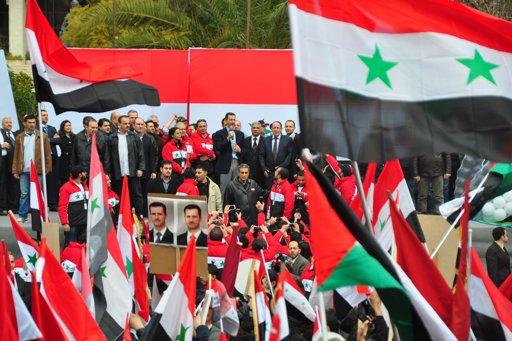 Syria's President Bashar al-Assad (C) addresses his supporters during a surprise
appearance at a rally in Umayyad Square in Damascus January 11, 2012, in this handout
photograph released by Syria's national news agency SANA.
In both appearances, Assad appeared determined to show strength and confidence as the conflict in Syria enters a new and heightened phase, with army defectors and some opposition members increasingly turning weapons on government targets.
Bashar Al-Assad said, ""We look forward, with one hand working on reform, and with the other hand fighting terrorism. We look forward with steadfast steps, with confidence and strength. There is no place for timid, and backward."
Assad, who inherited power from his father in 2000, has blamed the revolt on foreign-backed terrorists and conspirators.
Editor:Zhang Dan |Source: CNTV.CN