Watch Video
Play Video
Two giant pandas, Huan Huan and Yuan Zai, have boarded a chartered plane from south-east China for France. They are part of 10-year cooperation program for breeding the endangered species.
French people will soon be able to meet two giant pandas in ZooParc de Beauval, in central France.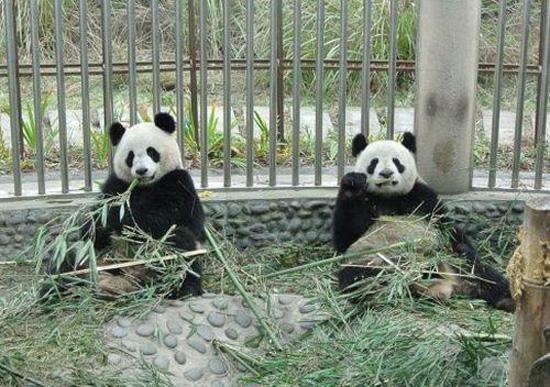 A photo taken on Jan 13, 2012 shows pandas Yuan Zi (left) and Huan Huan in their quarantined enclosure at the Panda Research Base in Chengdu, Sichuan province. The
pair of giant pandas are to be loaned to France after the two countries agreed
upon a deal that will see the pair staying in a French zoo for 10 years under a conservation and research programme.
Huan Huan and Yuan Zai were both born in 2008. They were selected from 108 pandas in the Chengdu Giant Panda Research Base.
The director of Chengdu research base of giant panda breeding, Lan Jinghao said:" The pandas are carefully selected based on criteria such as their genetic background, gender and appearance. Among the pandas in the Research Base, Huan Huan is outstanding. Given the long-term cooperation with French scientists, which includes breeding research, our selection has considered a cohort without close relatives."
A FedEx Boeing 777 aircraft taxis on the runway carrying two giant pandas bound for
France at Chengdu airport, on January 15. Yuan Zi and Huan Huan left early Sunday to
their new home at the Beauval zoo in France.
The pair are already popular in the French media. French Panda Ambassador, or "Pambassador", David Algranti, says pandamania is sweeping his country.
Huan Huan and Yuan Zai will stay in Beauval for 10 years.
On January 27th, they will attend a ceremony to mark 48 years of diplomatic ties between China and France.
Editor:Bai Yang |Source: CNTV.CN