Watch Video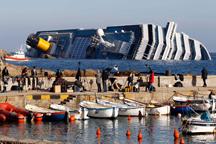 Play Video
The cruise ship Costa Concordia shifted again on its rocky perch Friday, forcing another suspension of search operations and once again raising concerns about stability.
Rescue teams working on the sunken vessel are having trouble with the ship's unstable resting place as they move forward. The vessel's movements are being closely watched since any significant shift could be dangerous for workers trying to locate missing passengers.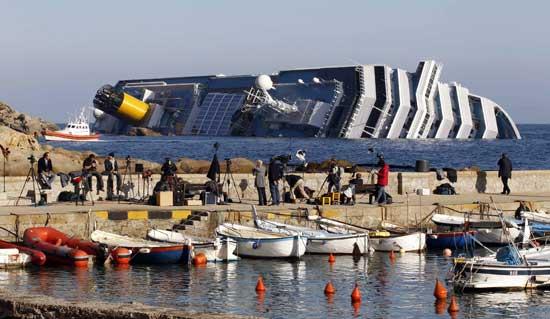 Members of the media stand on the dock in front of the Costa Concordia cruise ship,
which ran aground off the west coast of Italy, at Giglio island January 20, 2012.
A group of volunteer cave divers have joined in the efforts, but low visibility and narrow, complicated channels within the ship have made the search difficult.
Cave diver Gian Luca Ricciadulli said: "Probably a completely sunken ship would be easier. The difficulty is that it is on its side. It will give very bad orientation inside."
Another fear is that movement could damage the ship's oil tanks, which hold 2,300 tons of fuel. Officials are concerned about the possibility of leakage, which would be disastrous for the environment.
Preparations to begin removing the fuel were under way on Friday.
Coast guard commander Ilarione Dell' Anna said: "What we're concerned about most is the fuel in the tanks of the ship. We're working to find ways to safely transfer the fuel through pipes to a tanker... the tanker is here already."
Unfortunately, the operation will take at least 2 weeks.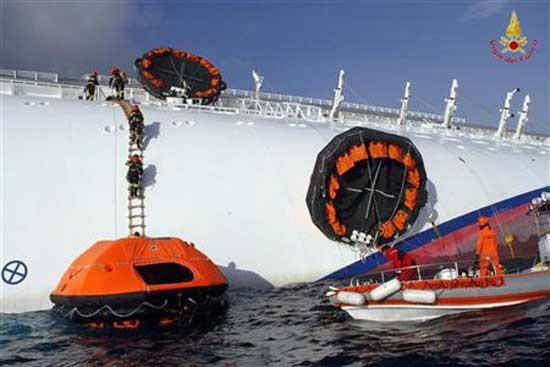 Firefighters approach from the side of the Costa Concordia cruise ship which ran
aground off the west coast of Italy at Giglio island January 19, 2012.
Editor:Zhang Rui |Source: CNTV.CN