Watch Video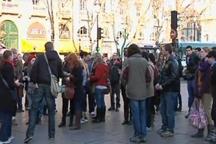 Play Video
As the world's population ages and the pressures of a difficult economy bear down, many developed countries are looking to retool their social security systems. As China looks to change its own system of elderly care, people are looking to the lessons and examples found in western nations that have a long tradition of these systems.
The retirement age in Europe typically ranges from around 60 to 65 years, but many countries are looking to raise that number as a way of saving money.
The British government is currently facing a 27-billion pound pension deficit. As a result it enacted measures in 2002 meant to encourage senior citizens to push back retirement - granting a 20 thousand pound reward to those who delay retirement til 70. And last year the government proposed moving the retirement age up to 66 from today's 65.
In 2011, the Italian government raised the retirement age for female civil servants to 65 from 61, but retirement may be granted for those who have paid into pensions in full for 37 years.
And the Greek government is looking to raise the average retirement age to 63 from 61 - currently citizens there are granted retirement after 37 years of work.
For three decades, French retirement has been set at 60, but the government is considering raising the standard by 2 years, and moving the age at which full benefits kick in from 65 to 67.
Related stories
Editor:Zhang Rui |Source: CNTV.CN