Watch Video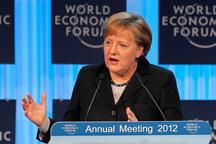 Play Video
With the European debt crisis topping the agenda at this year's winter Davos, German Chancellor Angela Merkel gave the opening address. She said the crisis needs to be solved through greater political unity, but dashed hopes of a big injection of money for the region's bailout fund.
It was no accident that German Chancellor Angela Merkel was chosen to give the opening address at the World Economic Forum in Davos.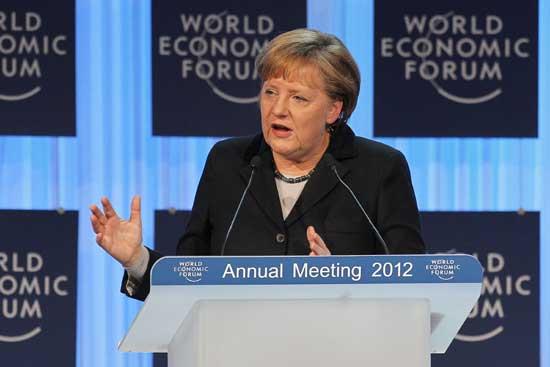 German Chancellor Angela Merkel, delivers the opening address at the World Economic
Forum in Davos, Switzerland, Wednesday, Jan. 25, 2012.
The euro zone debt crisis is a key issue among delegates and Germany is the euro zone's paymaster.
Merkel said she was absolutely convinced the debt crisis would be overcome although she questioned whether an increase in the euro zone's rescue fund would reassure markets.
Merkel said: "What we do not want is a situation where we promise something that in the end we cannot deliver - because then Europe will be really vulnerable."
Merkel isn't the only one in Davos who believes Europe is vulnerable.
Some delegates in Davos were also concerned, including Economics Nobel Prize winner Joseph Stiglitz and Standard Chartered's Chief Economist Gerard Lyons.
Stiglitz said: "I was hoping that after she said solidarity that meant okay, we are going to help the countries that need help. We have to have a common treasury, we have to have a fiscal framework that is more than austerity but in the end, it was back to the same old austerity, austerity, austerity which is not going to bring growth."
Lyons said: "She was outlining more Europe but in essence, United States of Europe by the back door. These were gradual steps towards giving more power, ceding more power to the centre of Europe and I think as she touched on difficult decisions and discussions ahead."
Merkel admitted a lot of confidence in the euro zone had been lost recently.
And confidence, she said, was the "most important currency".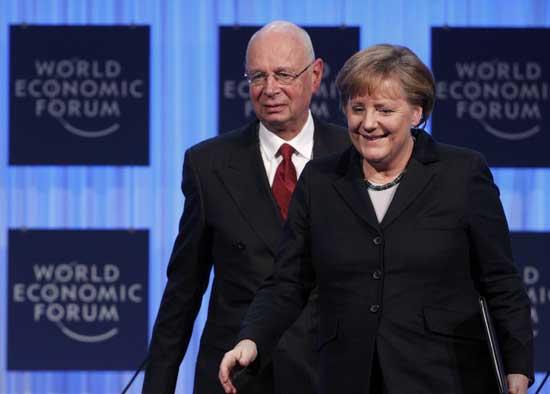 German Chancellor Angela Merkel arrives with Klaus Schwab (L), Founder and Executive
Chairman, World Economic Forum, for the opening of the Annual Meeting 2012 at the
World Economic Forum (WEF) in Davos, January 25, 2012.
Editor:Zhang Rui |Source: CNTV.CN