Watch Video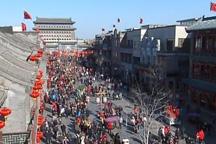 Play Video
We're four days into the Spring Festival Holiday. Let's go with our reporter Ai Yang to the center of Beijing, to find out how the celebrations there are going.
It's the middle of the week long Chinese New Year, and the festival atmosphere has reached a crescendo on Qianmen street. The nearly kilometer long pedestrian street in the heart of the capitol experiences a sort of burst of energy during each year's spring festival - drawing crowds who want to enjoy the season, and admire the street's 600 year history.
One tourist said: "It's very festive here. I'm from Henan Province. But here there're way more celebration and the crowd is much bigger."
Another tourist said: "The buildings and the street all look quite traditional. It is a very cultural place."
Or perhaps you can hop one of the street's sightseeing trams - which first hit the street in the 1920s.
How about some hot traditional Beijing Tea Soup? Priced at 10 yuan each, they're really not cheap. And there's really not tea or soup in it. It's made with sorghum flour, sesame, sunflower seeds, raisins. Not bad - hearty and a bit sweet. Of course there're other choices too- all adding up to a cozy festive atmosphere that will surely do a good job of pleasing your holiday belly.
Editor:Zhang Rui |Source: CNTV.CN