Watch Video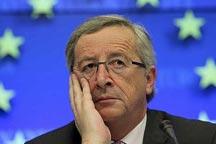 Play Video
Eurogroup chairman Jean-Claude Juncker has said the Greek parliament will have to pass the full package of cuts and reforms on Sunday in order to meet the terms of the bailout.
He said party leaders have to make clear that they will back the measures after elections.
Greece also has to identify an extra 325 million euros in savings for 2012.
He emphasied if those conditions are met, the eurozone finance ministers could give the green light to a bond-swap deal with private creditors to cut Greece's debt by some 100 billion euros at their next meeting on Wednesday.
Jean-Claude Juncker said, "Despite the important progress achieved over the last days, we did not yet have all necessary elements on the table to take decisions today. Firstly the Greek parliament should approve on Sunday the policy package agreed between Greece and the troika. Secondly additional structural expenditure reductions of 325 million euros in 2012 should be rapidly identified in order to ensure that the deficit target is achieved."
Editor:Liu Fang |Source: CNTV.CN