Watch Video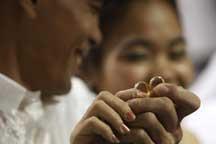 Play Video
In the Philippines, more than 2,000 couples celebrated Valentine's Day by tying the knot in mass wedding ceremonies throughout the country. Barnaby Lo has this story.
It's been 44 years from that very first time Perla Paralisan walked down the aisle and married this man - her husband and lifelong partner, Lupito. And after 10 children and 23 grandchildren, here they are, getting married, the second time around.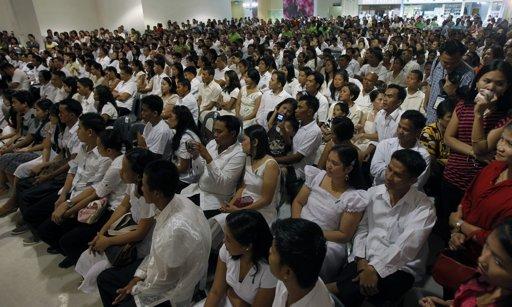 Couples take part in a mass wedding ceremony as part of a Valentine's Day celebration
in Paranaque, Metro Manila February 14, 2012.
Perla and Lupito said, "We feel as if it's the first time we're getting married like we're young again."
But it wasn't just any kind of wedding. It was literally the biggest wedding of the year.
Over 2,000 couples are getting married or are renewing their vows in mass wedding ceremonies like this all over the Philippines; couples from all walks of life and all ages, all saying their "I dos" this Valentine's Day.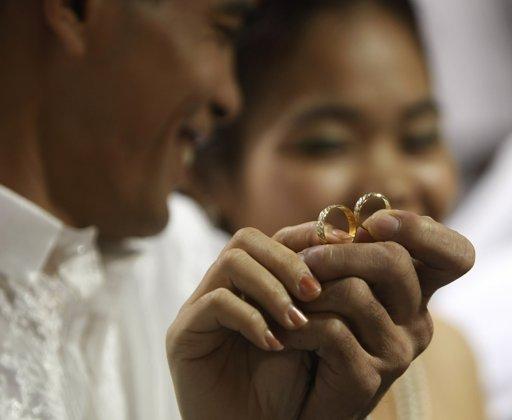 A couple displays their wedding rings during a mass wedding sponsored by the city of
Paranaque, south of Manila, Philippines on Valentine's Day Tuesday, Feb. 14, 2012.
Like Jude and Marissa Rivera, who, in all 18 years of their marriage, have always looked forward to the day of hearts.
Marissa said, "It was 11 years after graduating from high school that we saw each other again for the first time."
Jude said, "That was February 14. Then and there, he proposed, and the rest is history."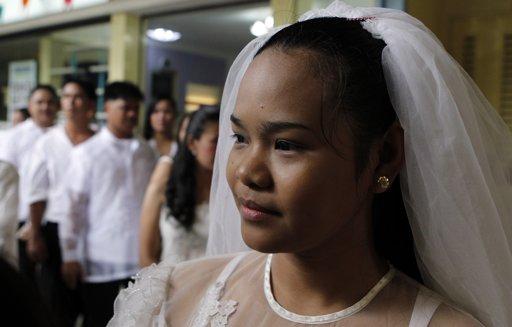 A bride queues as she waits for her groom to register in a mass wedding ceremony as
part of a Valentine's Day celebration in Paranaque, Metro Manila February 14, 2012.
And now they share this anniversary with thousands of other couples, who didn't just get married for free, but were also treated with a reception complete with food, music, and even raffle prizes that included a house and lot; all courtesy of the country's Home Mutual Development Fund, also known as Pag-Ibig, which means love.
Darlene Berberabe, CEO of Home Mutual Development Fund, said, "I really want to associate Pag-Ibig Fund, the name of our agency, to love and to the future because owning a house is really the start of a family life and the start of a future."
A future that remains uncertain, but with a wedding like this, for sure, there will be memories that will last them a lifetime.
Editor:Zhang Dan |Source: CNTV.CN