Watch Video
Play Video
Chinese Vice President Xi Jinping has wrapped up his five-day visit to the United States. Both sides say the visit contributed to bilateral relations and built and expanded ties between the two countries.
China's Vice President Xi Jinping declared his US visit a "complete success".
Chinese Vice President Xi Jinping delivers a speech during the opening of the U.S.
-China Economic and Trade Cooperation Forum in Los Angeles, the United States, Feb.
17, 2012. (Xinhua/Lan Hongguang)
During his visit, Xi attended 27 official activities, and achieved multi-level, multi field, and comprehensive dialogue with the US.
China's Foreign Minister Yang Jiechi says Xi's visit is important for the stable development of China-US ties.
Yang said: "As a guest of Vice President Joe Biden, China's Vice President Xi Jinping's visiting to the US is a significant issue between the two sides."
On assessing the impact and results of this "historic" visit, as China-US ties are one of the most important bilateral relations in the international community, both sides recognized that China and the US should increase strategic trust, expand consensus, deepen cooperation, respect core interests, and tackle challenges together.
During Xi's trip, the two countries have issued several statements including a five-year Plan of Strategic Cooperation to guide discussions on food security, safety and sustainable agriculture. Moreover, Xi's trip has offered an important Sino-US relationship-building opportunity in the various fields including shipping, tourism and entertainment industries.
Through engaging with a broad cross-section of American society, Xi's visit has further stepped up the US people's understanding about China and enhanced the exchanges between the peoples of the two countries.
The visit also covered the pressing issues such as the global finance crisis, climate change, the Korean Peninsula denuclearization issue, the Iranian nuclear problem and the Syrian question.
Given that Sino-US ties are important for the rest of the world, Beijing and Washington have reached consensus that both sides should effectively coordinate over these issues.
Chinese Vice President Xi Jinping (L) meets with U.S. President Barack Obama at the
White House in Washington, the United States, Feb. 14, 2012. (Xinhua/Xie Huanchi)
Chinese Vice President Xi Jinping (L) and his U.S. counterpart Joe Biden show T
-shirts with messages on them presented by students at the International Studies
Learning Center in Los Angeles, the United States, Feb. 17, 2012. (Xinhua/Liu
Jiansheng)
Chinese Vice President Xi Jinping (L) talks with farmer Rick Kimberley as they sit in
the cab of a tractor in Des Moines, Iowa, the United States, Feb. 16, 2012. Xi
visited Kimberley's farm Thursday. (Xinhua/Lan Hongguang)
Chinese Vice President Xi Jinping (2nd, R) shakes hands with an employee as he tours
China Shipping at the Port of Los Angeles in Los Angeles, California, the United
States, on Feb. 16, 2012. (Xinhua/Lan Hongguang)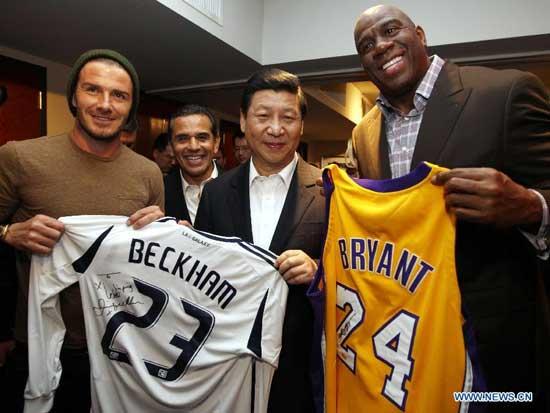 Chinese Vice President Xi Jinping (C, front) is presented with souvenir jerseys with
names of Los Angeles Lakers star Kobe Bryant and Los Angeles Galaxy soccer player
David Beckham at the Staples Center in Los Angeles, the United States, Feb. 17, 2012.
Xi Jinping watched a NBA basketball game between the Los Angeles Lakers and the
Phoenix Suns at the Staples Center on Friday evening. (Xinhua/Lan Hongguang)
Chinese Vice President Xi Jinping (Front, C) and his old friends pose for group
photos in Muscatine, a small city in Iowa, the United States, Feb. 15, 2012. Xi
joined dozens of ordinary Americans for tea at a local house owned by his old friend
Sarah Lande here Wednesday. Most of the participants at the tea reception were Xi's
old acquaintances back from his 1985 visit, when Xi, then a local official from
China's northern province of Hebei, visited Iowa as a member of an agricultural
exchange delegation, and stayed with a local family in Muscatine to better understand
Iowan farm life. (Xinhua/Lan Hongguang)
Related stories
Editor:Zhang Rui |Source: CNTV.CN