Watch Video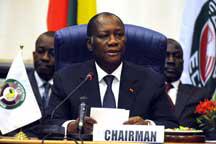 Play Video
Cote d'Ivoire's President Alassane Ouattara has been elected as the new Chairman of the Economic Community of West African States, ECOWAS. Leaders attending the 40th ordinary summit of the Heads of State and Government in Abuja, Nigeria voted unanimously for him to take up the post.
And with that the 13 heads of state in attendance penned their endorsement for President Quattara. The summit had kicked off on a rather cautious note, the in-tray full of pending issues. Insecurity in the Sahel region, enhancing trade and economic integration, piracy in the gulf of guinea, democracy and good governance formed part of the agenda.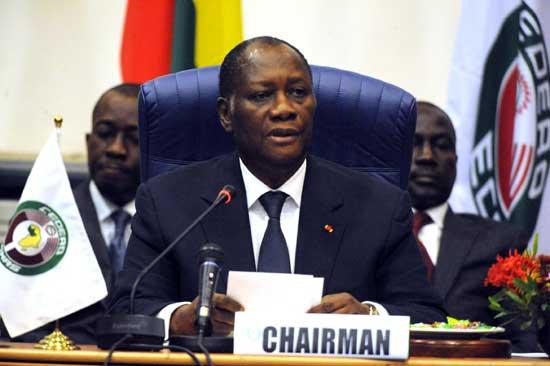 Ivorian President Alassane Ouattara reads his acceptance speech during the closing
ceremony of ECOWAS Summit in Abuja.
The leaders came out of the talks with a commitment to hasten economic integration, boost agriculture in the region and step up food security.
The Nigerian Head of State lauded efforts to consolidate peace and security in the region.
He however expressed concern over the deteriorating security and humanitarian situation in Niger and Mali.
Then came time for the change of guard…Nigeria's President stepped down as ECOWAS Chairman as Victor Gbeho too, relinquished the position of the regional body's Commission President
Reporter: "Its now official. There has been a change of guard. ECOWAS has a new Chairman while the commission has a new President. However the objectives of ECOWAS, particularly regional integration remain the same."
Editor:Zhang Rui |Source: CNTV.CN